The adoption of Cloud technologies has seen stupendous growth over the past couple of years and only accelerated through the present unprecedented economic scenario. Businesses that have not kept pace with investing in cloud-adoption strategies are now struggling to maintain business continuity amidst the global disruption caused by the pandemic, instead of looking at ways to capitalize on growth during this period. Through digital services, Gartner predicts that world-wide end user spending on public cloud services will grow 20.4% in 2022 to total $494.7 billion, from $410.9 billion in 2021.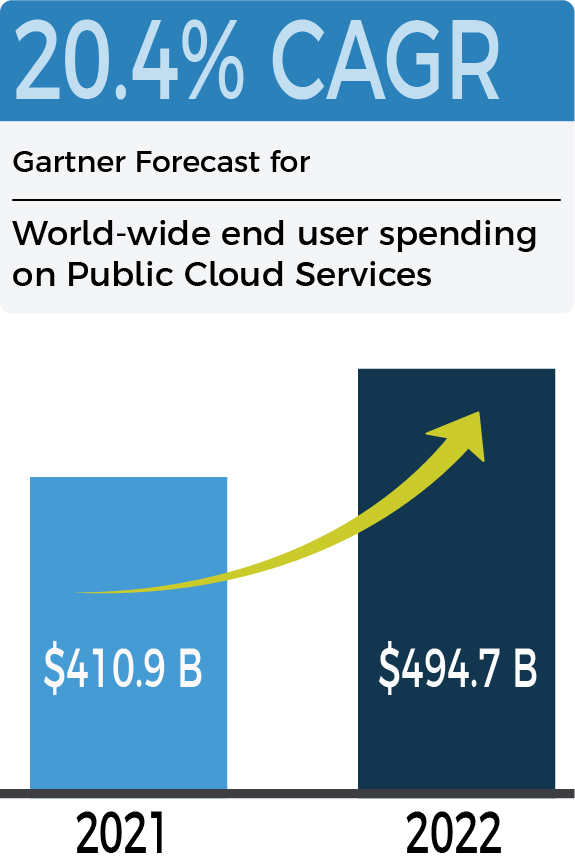 SA's focus on cloud technology finds that it is undeniable that Cloud Technologies will continue to play a crucial role in Digital Transformation in 2022 and beyond. To implement and apply advanced technologies like Big Data, Artificial Intelligence (AI), 5G, Internet of Things (IoT), Cloud Technologies is the foundation that provides a common platform and simplified service delivery and support. 
The combination of advanced technology ecosystems and rapid innovation in Cloud Technologies has created a great opportunity for Cloud specialists to act quickly to develop products and services based on the changing needs organically or through a range of partnerships to offer these new products and services. The cloud computing market share is expected to grow at a CAGR of 23.9% from 2022 to 2028. 
While enterprises are deploying more multicloud arrangements, the IT budgets are increasingly moving to cloud giants. Research Group reports Q3 cloud infrastructure spending of $45 billion.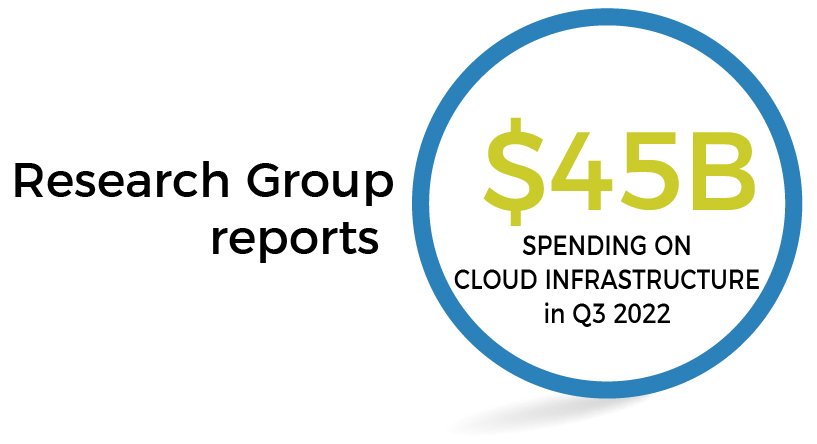 Businesses are investing in cloud technology businesses to adopt the latest cloud trends, which are vital to maintaining a competitive edge. Gartner predicts that by 2025, 85% of enterprises will be cloud-first. Businesses can't maximise their digital initiatives without cloud-native architectures and technology. 
Investment is shifting from on-premises servers to cloud computing platforms like Microsoft Azure and its SaaS offerings, Amazon Web Services, and Google Cloud Platform.  Amazon Web Services (AWS), Microsoft Azure, and Google Cloud Platform (GCP) have all seen continued growth since the COVID-19 pandemic. These companies are introducing new services at a tremendous speed, and each is building its own compute stack to improve efficiencies and cut costs, which it hopes to pass on to customers.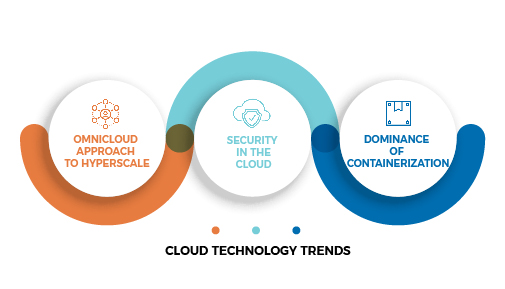 The already large and  growing demand for capabilities across the three cloud ecosystems, is driving many mid-sized Global IT and Cloud solutions players to take the "buy" vs. "build" approach to expand their  AWS, Azure and GCP capabilities by investing in specialised Cloud partners. Cloud market deal activity will be highest in 2022 and beyond. In the second quarter of 2022, cloud acquisitions boosted TMT M&A transactions by 15%. The following are recent trends and strategic investments, highlighting the increased investment interest in specialised Cloud partners who are aligned to latest trends: 
Businesses are forgoing the traditional method of sticking to a specific cloud solution that becomes cumbersome and complex to utilize in changing business scenarios. Hence, enterprises are open to implementing more than one cloud solution getting the best out of each of them. This tendency in the market will lead to cloud service providers forming alliances and providing cross-platform differentiated capabilities to deliver omnicloud strategy.
Broadcom investment in VMWare.
Broadcom Inc., a worldwide technology giant that designs, develops, and provides semiconductor and infrastructure software, bought VMware for $61 billion.  VMware, the leading virtualization platform, and Broadcom Software's complementing product line will give major enterprises access to more mission-critical IT infrastructure solutions. Customers, including industry leaders, will have alternatives for where and how to run their applications. The unified solutions span the complete spectrum of deployment options, from the traditional data center to any cloud and edge-computing. 

Trend 2: Security in the Cloud
Organizations and consumers worry about cloud data protection and compliance with laws and regulations. Modern cloud solutions try to overcome these concerns, boosting interest in cloud disaster recovery and Secure Access Service Edge (SASE). As more employees use their devices to access company resources and data outside the internal network, businesses are reconsidering their security and risk management policies.   Companies can use this IT security technique to adopt cloud services while maintaining a secure infrastructure.
Plurilock acquired CloudCodes.
Plurilock Security, a Canadian supplier of zero-trust continuous authentication, bought CloudCodes for $1.45 million. Plurilock specializes in network infrastructure protection and will be complemented with CloudCodes' cloud and mobile device security knowledge and improve Adapt login authentication. Plurilock's money, security, IT, and AI know-how can help CloudCode evolve its capabilities.  CloudCodes can assist Plurilock in joining the CASB industry. This could boost Plurilock's foreign cybersecurity sales.

Containerization through Kubernetes orchestrates the deployment of applications across multiple cloud platforms and dissolves the disparate cloud barriers through prescriptive platforms, open-source platforms, or native providers, thus creating market dynamics for the aforementioned omnicloud approach. Thus the market upended with Kubernetes consolidation through M&A moves.
Rakuten Symphony acquires Robin.io
Startup Robin.io, which developed a Kubernetes platform tailored to storage solutions and advanced network applications, has been bought by Rakuten Symphony. Robin.io's multi-cloud mobility, automation, and orchestration solutions will be included in Rakuten's Rakuten Symphony suite. The Robin.io team shifted their attention from storage solutions to developing a robust Kubernetes infrastructure. Buying this company would enable them to develop products to automate Kubernetes apps for 5G services and to orchestrate private 5G and LTE network rollouts.
With Digital Transformation being proven as a must-have strategy, Enterprises will move fast to adopt cloud ecosystems. To meet the shift in business demand due to the new-normal and reaffirm cloud benefits, cloud organizations will have to be ready with smart, targeted solutions, and a range of technology expertise.
There have been several other vital factors that have boosted the adoption of cloud technologies. Apart from increased awareness of cloud technologies' advantages, there is a consumerization trend that makes cloud adoption affordable according to enterprise needs. An increasing global cloud market has also induced innovation and the emergence of new technologies and as-a-service portfolio within the cloud ecosystem. Numerous startups provide an 'as-a-service' model based on the rapidly changing needs of enterprises. It has been possible due to the high availability of cloud-skilled human resources.
Increased interest and opportunities for strategic and targeted investment in the Cloud sector have opened exciting possibilities for cloud specialists to scale revenues and deliver ready-to-market cloud service portfolios to existing and emerging customers.