The coronavirus pandemic has expedited the pace of Digital Transformation, with years' worth of transformation happening in a year and a half. This has led major digital transformation-centric software leaders like SAP, Adobe, Salesforce to up their game and enhance their platforms which can transform more than one business sector across the world. Partners of SAP, Adobe, Salesforce are witnessing a significant surge in demand for their services and entering into numerous strategic partnerships with varied enterprises and garnering investments. One of the major sectors which these players have revolutionised is Commerce Cloud, with transformative technologies. In the last few years, increased change in customer expectations, rise in omnichannel players and rapid advancements in technology have largely been responsible for shaping the retail world. In an industry that is characterised by razor-thin margins and high-cost pressures, even the smallest magnitude of change in either direction can lead to either a significant amount of risk or opportunity for e-commerce players. With the fiercely competitive market where the e-commerce companies have been vying for the biggest slice of the pie, traditional Digital Transformation approaches are no longer an option. SAP, Adobe and Salesforce partners are taking unique approaches to enhance their capabilities and build platform-centric features based on their respective commerce cloud solutions, be it in payment, inventory management, 360-degree customer intelligence or personalized marketing.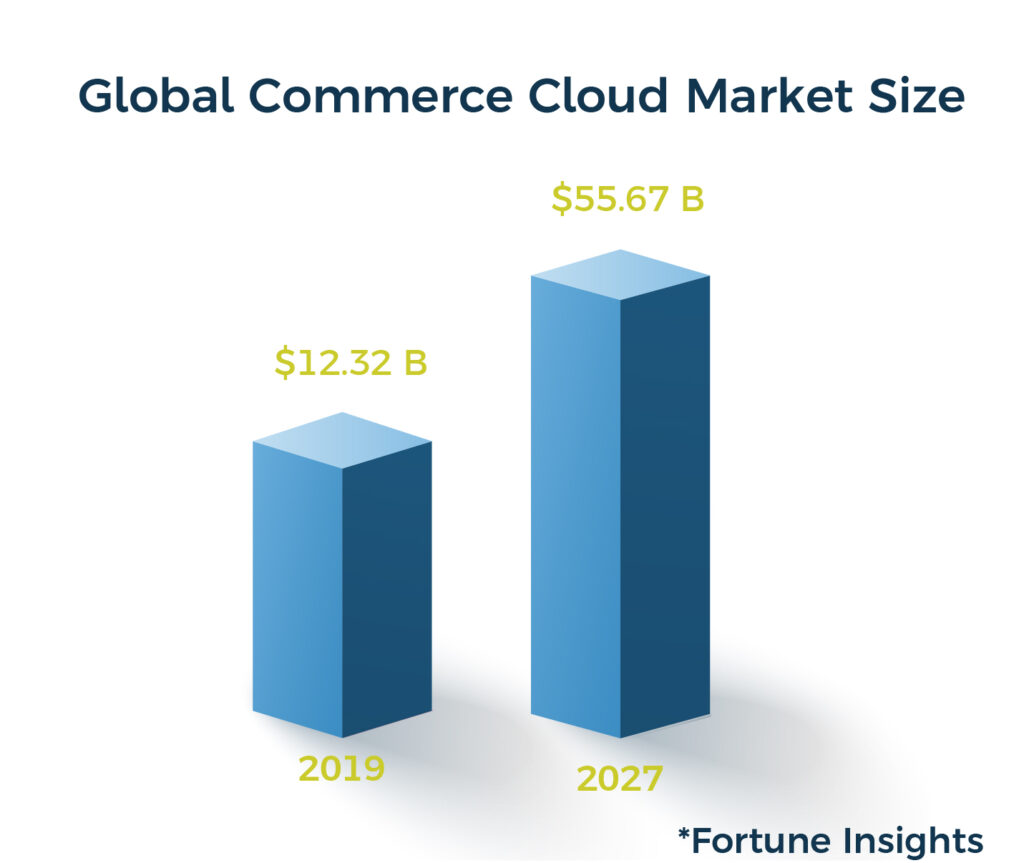 In addition to these players, this has give rise to a new ecosystem of other Digital Transformation and Consulting Services players who are vying for a slice of the Commerce Cloud opportunity by revolutionizing e-commerce solutions with new technologies around data analytics, artificial intelligence and digital experiences delivering innovation around inventory automation, customer intelligence, multi-channel retailing, and other e-commerce features. A combination of data analytics and artificial intelligence (AI) empowers e-commerce platforms to make better decisions, create intuitive digital customer experiences, and improve their overall business processes. In addition, it allows for the analysis of customer behaviour and facilitates the discovery of actionable insights. A major role is played by cloud solutions, which offer specialised services tailored to the client's industry. Such pre-built, easily implementable, widely used, and thoroughly tested software is increasingly being used to elevate the performance of commerce cloud solutions.  performance. At SA, we are witnessing a growing interest in this fast-growing ecosystem from mid-sized Digital Transformation, Consulting services players, and specialised commerce cloud solution providers, who are all adopting varying approaches to win. This is fuelled by the significant investments being made by the top three Commerce Cloud software leaders, that are looking to infuse more platform-centric AI, Data and Cloud capabilities into how they deliver Commerce Cloud solutions to their largest global clients. Here's a look at the top three global commerce cloud ecosystems:


SAP Hybris enables the modern-day e-commerce business to deliver a comprehensive, seamless and omnichannel experience to their customers. The industry-leading Hybris platform was rebranded to SAP Commerce Cloud and integrated with SAP's supreme customer experience suite of products. An omnichannel platform for B2B, B2C and B2B2C businesses, SAP Commerce Cloud is designed to engage and transact with your customers across digital and physical touchpoints. The platform, when combined with other prevalent SAP solutions, gives you a 360-degree view of customers, enabling businesses to present their products and services in the best possible light, with a consistent cross-channel shopping experience, and strong customer loyalty. Below are the two SAP partner acquisitions:
itelligence's acquisition of German Hybris and SAP Gold Partner Sybit, to expand its activities in the market for customer management and e-commerce systems. With the acquisition of Sybit, itelligence aims to secure itself a top position in the lucrative e-commerce market in Germany.
Dimension Data acquired a majority stake in London-based SAP partner e2y, leveraging the SAP partner's Customer Experience Software for digital commerce projects and omni-commerce solutions. The move is designed to strengthen Dimension Data's digital business solutions portfolio across the world, through the addition of digital commerce capabilities.

Adobe's Commerce cloud, is a fully managed cloud-based version of the 2018-bought- Magento platform that is fully integrated with the rest of Adobe's tools, including its Analytics Cloud, Marketing Cloud, and Advertising Cloud. Adobe Cloud also offers Enterprise versions that are managed (Magento Commerce on-premise). By allowing seamless integration with Adobe Experience Manager, Adobe Commerce Cloud takes Magento Commerce (the enterprise offering, not the open-source version of Magento) to a whole new level. Below is one noteworthy acquisition involving an Adobe Commerce cloud partner:
Infosys, a global IT consulting firm, has acquired Blue Acorn iCi, an Adobe partner, to gain additional expertise in e-commerce digital customer experience and analytics. With this acquisition, the two companies aim to offer unmatched services and insights to help companies become the new leaders in e-commerce and customer experience around the digital platform.

Salesforce combined Demandware technology with its Customer Success Platform to create a new Salesforce Commerce Cloud. A cloud-based commerce platform, Salesforce Commerce Cloud transforms the way eCommerce companies connect with their customers. Salesforce Commerce Cloud allows users to streamline the purchasing process, personalise buying experience, and create a mobile-friendly shopping experience. Below is one noteworthy acquisition involving a Salesforce Commerce cloud partner:

Earlier this year, Accenture acquired Businet System, a leader in developing and operating Salesforce Commerce Cloud-based e-commerce sites in Japan, to Help Clients Deliver Personalized and Seamless Cloud-Based Ecommerce Experiences at Speed and Scale. Of particular interest to Accenture appears to be the firm's proprietary order management system (OMS). As the OMS is compatible with Salesforce, it makes sense for Accenture to consider purchasing a ready-made Salesforce-ready solution for e-commerce traders.
While we may see some consolidation in the future, for now, we continue to see significant investment interest with growing demand and market opportunity for partners with specialised capabilities across e-commerce cloud, DXP, and companies with commerce cloud experience solutions capabilities. with tailwinds of accelerated investment across the SAP, Adobe and Salesforce landscape.