About Us
SA Global Advisors (SA) is a leading global investment banking firm focused exclusively on investments and M&A transactions in the Technology, Media and Telecom (TMT) sectors. Our core focus is envisioning and executing strategic M&A transactions to transform the growth trajectory of mid-market companies in the Digital Transformation, Consulting and Technology industry.
Tech M&A Transactions
Led by our team over more than two decades of operating and investing experience with top PE/VC Investors and Tech acquirers
Cross-border
Majority of our Tech transactions and active deal flow is cross-border, research-backed and proprietary
Transaction Value
M&A & Tech investment track record driven by Partners at SA with 20+ years in the industry
Sector Focus
Unparalleled experience and deep capabilities in specific Technology sectors bring unique insights to our clients
Insights
Insightful Research across Digital and Tech Sectors
Selected Transactions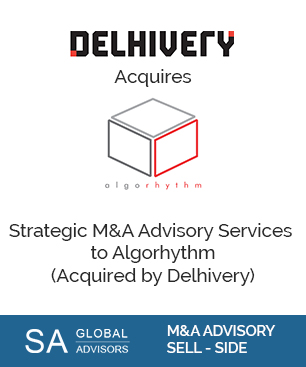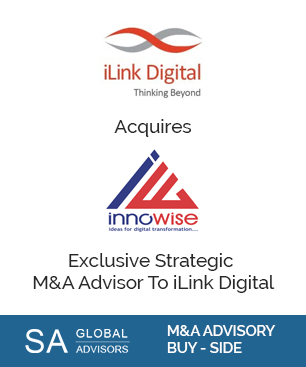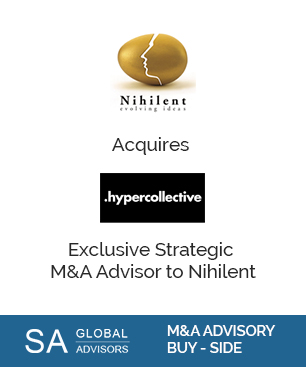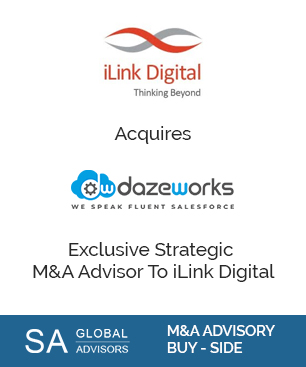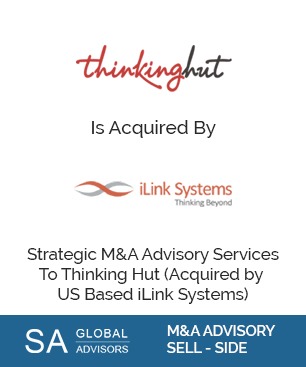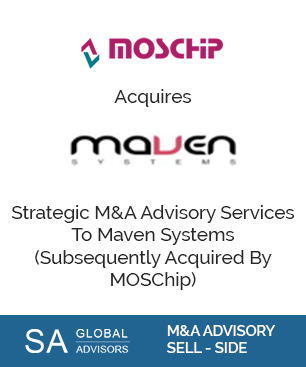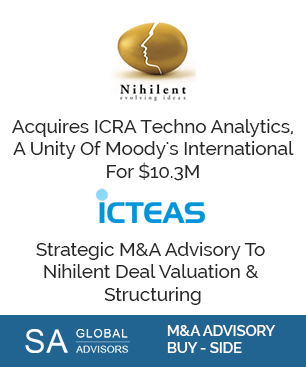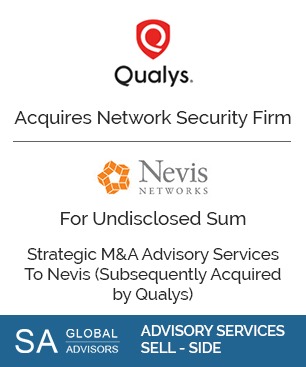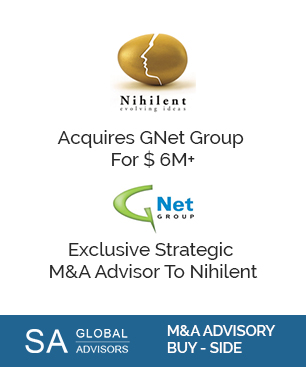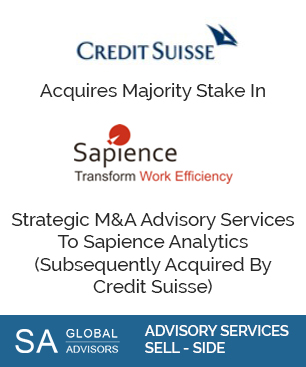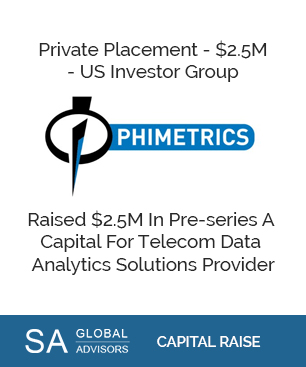 Testimonials
"SA has enabled a smooth transition, being a partner and advisor in our M&A journey over the past few years. Their depth of knowledge of the Digital and Design ecosystem and how Hypercollective could fit into our growth model and organization to ultimately realize our objectives through this acquisition is Noteworthy."
L.C. Singh, Director and Executive Vice-Chairman, Nihilent
"SA's ability to work seamlessly across Nihilent and HyperCollective organizations as part of the process and bring insights into business, organizational, and cultural integration aspects of M&A has been very Valuable."
Minoo Dastur, President and CEO, Nihilent
"We have SA to thank for their expertise and professionalism throughout the process, and for their ability to see value in our approach and help us feel comfortable in the new home for our company. While they ran the process on behalf of Nihilent, they facilitated the same with utmost transparency and fairness. For me as a serial entrepreneur, this was positive as one has to value people we work with more than anything else."
KV Sridhar(PoPs), Founder, Hypercollective, Chief Creative Officer, Nihilent
"iLink Digital is focusing on growth acceleration this year. SA was able to leverage their deep experience in this sector and identify a strong Salesforce specialised company for us to partner with and enter to expand our Salesforce footprint, as part of our inorganic strategy. In our journey with SA as our advisor and partner, we find their M&A process, reach and business alignment invaluable."
Sree Balaji, CEO of iLink Group
"Our relationship with iLink Digital is the latest and the biggest yet. Our conversations with iLink stemmed from the remarkable synergies between the company DNAs, company cultures, and leadership values. With the vast experience, knowledge, and complementary facets of technologies that the iLink team brings in, we believe this powerful partnership will help us achieve our combined goals and emerge stronger. We are excited about joining the iLink Family and all the possibilities in store for both organizations. The runway ahead of us is much longer than the runway behind us. We have SA to thank for their expertise and their ability to see value in our specialised approach within the Salesforce industry and conduct the process with utmost transparency and fairness."
Shivanath Devinarayanan, CEO of Dazeworks