Businesses have had to go through a great deal of learning and bring in major changes to their business models to overcome diverse challenges such as maintaining client relationships, facilitating employee communication, managing cybersecurity threats in a remote working environment due to the pandemic. However, for Entrepreneurs who have been able to prepare their companies well and ride the Digital Transformation wave, the pandemic has been easier to navigate and stay ahead of the curve. With remote working expected to stay even after the pandemic, many enterprises are in a hybrid cloud environment, running core business systems in various clouds and also still utilizing on-premise capabilities. This, with the need for digital transformation, is leading companies to automate ERP, CRM and SCM processes on cloud infrastructure, ensuring enterprise applications can easily integrate and run a holistic business process, leading to demand generation for enterprise application suites. Enterprise Application suites are readily integrated systems built with data pipelines, connecting various business workflows to maximize the value of business processes. Components of Enterprise application suites include Customer relationship management (CRM), Enterprise Resource Planning (ERP), Supply Chain Management (SCM), Business Intelligence (BI), Business Process Management (BPM), Content Management System (CMS) and Enterprise Asset Management (EAM). 
The global enterprise application market size is estimated to be worth USD 259.51 billion by 2022, according to a new study by Grand View Research, Inc., registering a 7.8% CAGR during the forecast period. While the market has multiple enterprise applications suite providers, Oracle EBS, SAP Business Cloud, Microsoft Dynamics 365, are the ones leading the pack, with IDC's recent research pointing to the three responsible for driving the highest worldwide revenues in 2020.   Due to their advanced technology capabilities in cloud, predictive and prescriptive data analytics, API based integration with communication suites and productivity tools, Oracle EBS, SAP Business Cloud, Microsoft Dynamics 365 have been attracting a steady increase in interest from investors, leading to a rise in acquisitions and partnerships of their partners. At SA, we are witnessing growing investments in each of these Enterprise Application ecosystems - Oracle, SAP and Microsoft propelled by the need for mid-market technology consulting players to build these capabilities faster through acquisitions, rather than building organically. This is evidenced in the rise in investments and strategic partnerships involving the three key players in the market.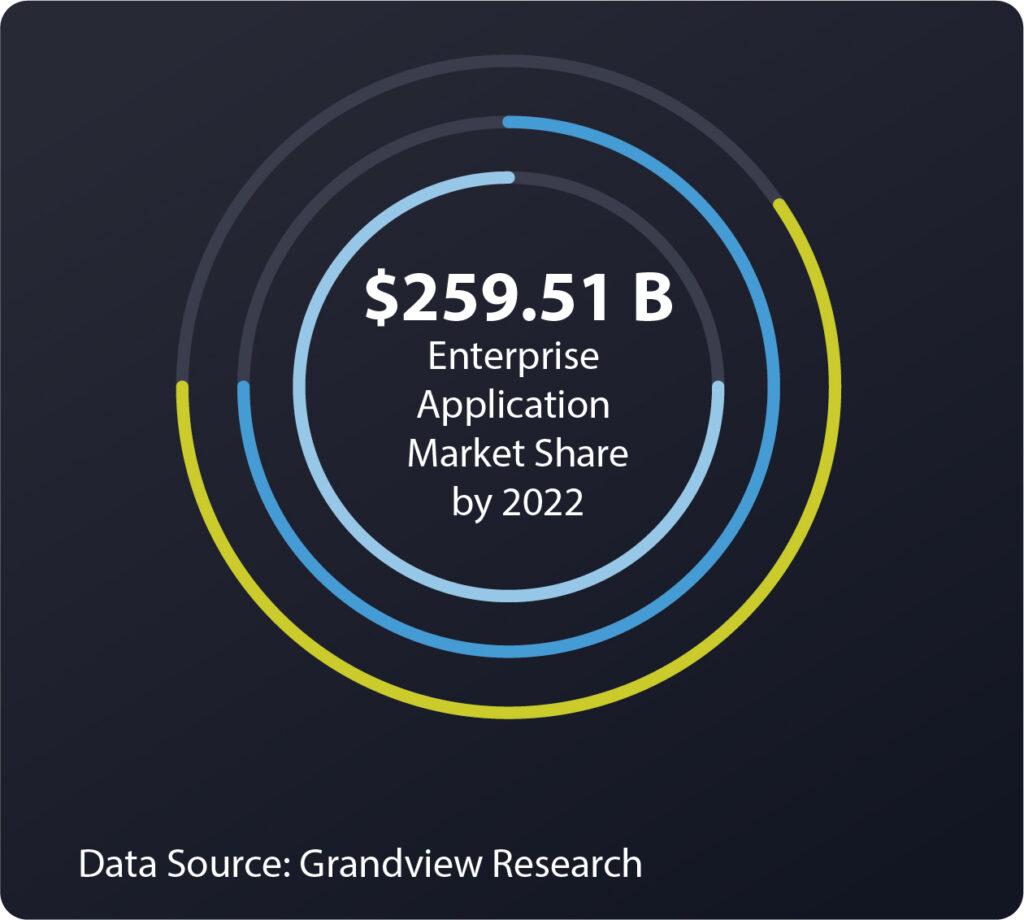 Oracle EBS Partners: Oracle Partners with expertise in fully integrated, cloud-based, comprehensive enterprise business suite (EBS), have been receiving significant investor interest. Oracle's EBS is a coveted set of enterprise application suites bringing together enterprise resource planning (ERP) products like Fusion ERP, NetSuite ERP cloud as well as supply chain management (SCM), customer relationship management (CRM) applications and others like Oracle Financials, Oracle Human Resource Management System (HRMS), Oracle Logistics. Oracle partners have reaped impressive strides with the Oracle Cloud Infrastructure business, including some impressive layers of automation. Numerous companies have invested in Oracle partners with one of the key expertise being in the enterprise business suite underlining the rising demand for its robust and varied enterprise application solutions. The following are a few recent investment examples in the Oracle business suite space:
Deloitte acquired Focus IT, an Oracle gold partner, joining Deloitte's consulting arm, boosting its capabilities in Oracle On-Premise (EBS) and cloud implementation in the region. This acquisition continues to strengthen the foothold of Deloitte's Oracle practice in Southeast Asia and drive value for their clients across the region. Joining Deloitte, with its depth of the industry and global reach, provides Focus IT business with an opportunity for exponential growth and positions them well to help clients transform through disruption and innovation.

 Centrilogic acquired 3RP, a managed services provider (MSP) for Oracle Cloud Infrastructure (OCI), Oracle Applications, and Databases. 3RP is an Oracle Cloud Solutions Provider (CSP), MSP and legacy Oracle Platinum Partner. 3RP's unique depth and experience in this space complement Centrilogic's full spectrum of services, better positioning them to help their customers solve their most complex business and technology challenges. This particular acquisition bolsters Centrilogic's Oracle expertise and grows its geographic footprint in the southwest region of the U.S.
SAP Business Cloud: With SAP's first-mover advantage, its partners have retained one of the largest shares in the enterprise application suite market. They have built their ERP offerings from the ground up and in-house. This means that their modules all integrate very well with each other, and expanding your SAP Business One software tends to be more painless than other competitors. The most popular SAP business cloud suites include SAP S/4Hana, SAP Business One, SAP BusinessBy Design, SAP ERP. SAP Business One Cloud,  is one of the most affordable and popular solutions that help integrate and streamline key business processes – including financials, sales, inventory, and more. In the same bundle, when SAP Business ByDesign (ByD), a cloud enterprise resource planning software and intelligent SAP ERP solutions are added, SAP partners are power playing the transformation of mission-critical business processes and rapidly accelerating enterprise business growth– no matter the size of your business. The following are a few recent investments in the SAP business suite space:
Software engineering firm Exadel acquired technology consultancy and SAP ERP partner Coppei. Coppei is a digital business strategy and technology consultancy focused on data and insights and delivery leadership. By joining the Exadel family as the integration of Exadel's software engineering services, Coppei builds and delivers digital business strategies, architecture, and advanced analytics solutions with cloud-based software engineering solutions that include enterprise platform development, artificial intelligence, digital marketing, and the internet of things, creating new opportunities for their team and extending services to their clients. The addition of Coppei's digital strategy and consulting expertise combined with Exadel's globally distributed software engineering services enables Exadel to provide full-service technology consulting and solutions on top of SAP business cloud solutions.
Microsoft Dynamics 365: Microsoft Dynamics 365 partners are witnessing a rise in investor interest due to their offerings that provide executives valuable insights into performance and opportunities through its business intelligence platform. Because Dynamics 365 combines CRM and ERP capabilities, organizations can effortlessly streamline the way they communicate both internally and with customers. Mid-market companies can leverage the potential of Microsoft Dynamics 365 to better manage their relationships with customers, prospects, and staff. Microsoft  Partners are rapidly attracting investor interest, owing to the set of cloud tools that can help with everything, from sales to operations to accountancy. Dynamics 365 equips employees with the tools they need to be more productive, strengthen customer relationships, and win more business. Capitalizing on Dynamics 365 solutions to enhance corporate efficiency and drive digital transformation is a terrific approach for companies to get ahead of the competition. The following are a few recent investments in the Microsoft Dynamic 365 space:
European MSP Node4 acquired Microsoft Dynamics 365 cloud consulting partner TNP to push deeper into the cloud ERP market. TNP, with 260 employees, is a Gold Microsoft Partner across ERP, Application Development and Cloud Platform, and additional Microsoft certifications including Small and Mid-Market Cloud Solutions, Data Analytics and Application Integration. TNP's technical capabilities and credentials in NAV, Business Central and Power Platform ideally complement Node4's already comprehensive portfolio of services. This acquisition plays a major role in the ongoing growth of both Node4 and TNP businesses to help more customers use technology more effectively to optimize their business processes and improve productivity.                                                                                                                                                                                                       
The above investments demonstrate the rising demand for these players in the enterprise application suite market. Such symbiotic investments also expedite product innovation, thus reducing product development costs and creating a continuous market for affordable and customizable business suite capabilities. We, at SA, continue to see significant investor interest in Oracle, SAP and Microsoft and expect the range of opportunities within the segment to grow significantly.
To share feedback on this blog or explore transaction opportunities for your firm with us, please write to us at [email protected].