The need for software automation and new applications for business processes places demands on software developers to create custom applications in volume, tailoring them to organizations' unique needs. While demand for software development services will likely rise five-fold, the available professional capacity to provide them will only increase by a small fraction, according to Gartner. Therefore, low-code development platforms have been and are developed as a means to allow for quick creation and use of working applications that can address the specific process- and data needs of the organization. Given the demand for rapid application development through drag and drop and minimal coding, small-scale companies are now able to create complex applications without learning complex computer languages, using low code options, making the building of apps for enterprises and non-programmers alike. According to Gartner, low code application building would gather more than 65% of all app development functions by the year 2024.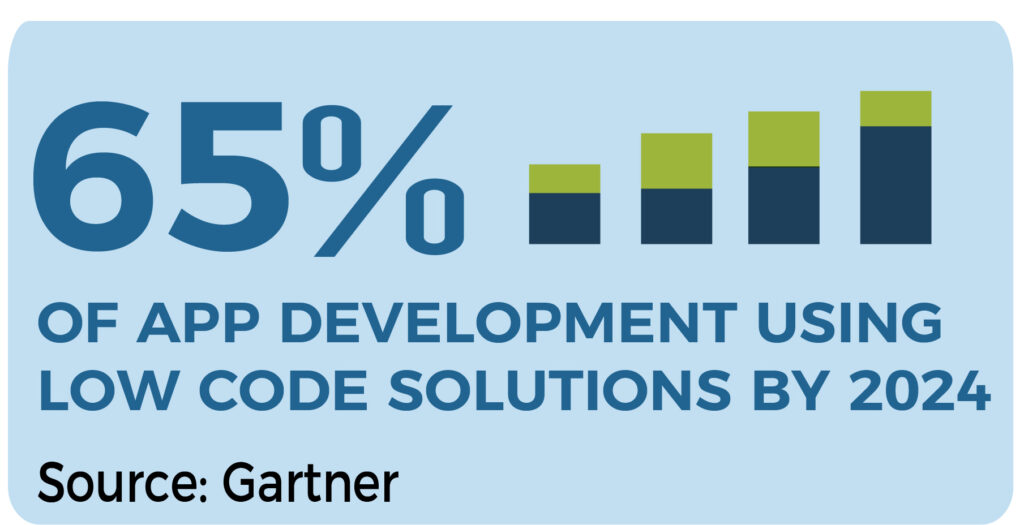 No-Code and low-code technology help companies to secure more valuable enterprise accounts and digital business initiatives. Innovation in software application platforms is driven by low code initiatives that assist through implementing user interfaces, business logic and data services, without the usage of complex codes. As the complexity of software platforms increases, so does the amount of automation needed to build them. AI-led technologies like NLG, NLP, computer vision and gesture recognition are leading to unique development towards upcoming low-code no-code platforms. It's because of these capabilities that more and more low-code specialists have garnered backing from public and private investors. Numerous new partnerships have emerged to help smaller and mid-sized businesses leverage. Large-scale vendors such as Salesforce, ServiceNow, and Microsoft have developed their own low-code platforms. Some of the key players in low-code include Outsystems, Appian, Caspio, Matssoft, Bizagi, Mendix, Agilepoint and top no-code players include FileMaker, Nintex, Quick Base, Airtable, Zudy, Zoho Creator, AppSheet, KiSSFLOW and  Ninox. Collectively these companies make up for most of the demand generation in low-code and no-code technologies.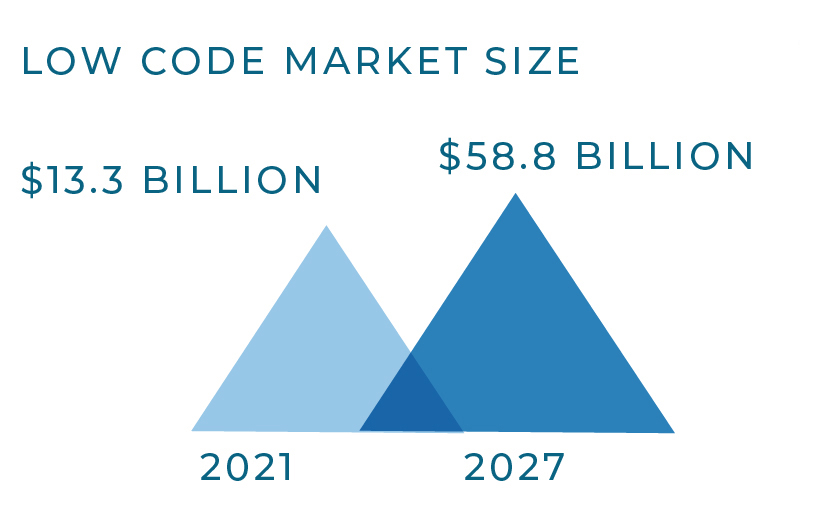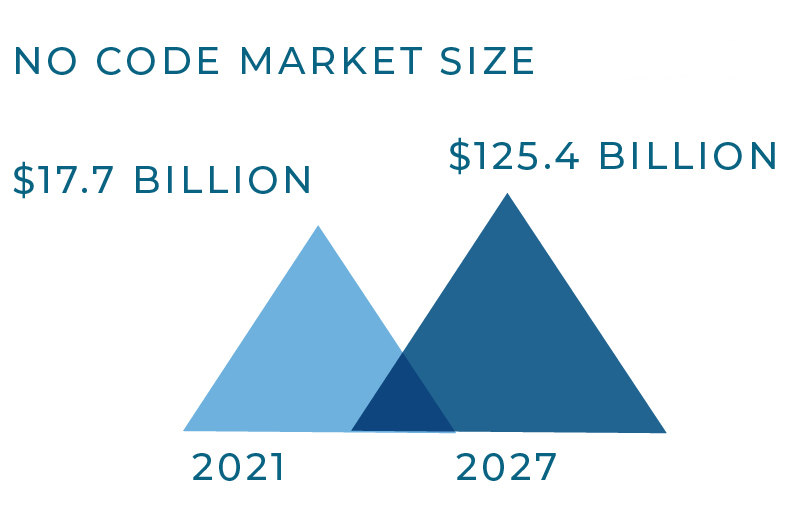 In 2019, even before the onset of the pandemic, Gartner through its research disclosed that about 66% of big companies were using a minimum of four low code platforms. Since then, after the pandemic fastened the pace of digital transformation, the adoption of low code platforms has only increased, leading to large enterprises investing in low code & no code specialist companies to either enter the market or build low code/no-code platforms of their own. The following are some recent Strategic Partnerships specialized low-code firms have entered into with established global enterprises across verticals, highlighting how low-code platforms enable smooth automated app deployment, operability and scalability.

AppGyver and SAP
Earlier this year, SAP acquired AppGyver Oy, a pioneering company specializing in developing software tools for non-coding experts to design web and mobile apps.
This acquisition enabled SAP to help its customers and partners optimize their applications' usability and streamline their IT systems to meet customer needs. SAP's Business Technology Platform now includes solutions developed by AppGyver, that increase the scope of business process intelligence offerings for SAP. By further enhancing the SAP application experience, customers, partners, and SAP can provide their teams with an array of integrated and straightforward application development tools, allowing for creating workflows, forms, robotic process automation, and lightweight case management.
Being a part of SAP provides Appgyver with long-term stability and significant benefits. Thanks to the integration with SAP products, new opportunities will arise for AppGyver's enterprise customers. Thanks to the partnership with SAP and their investments, the product roadmap will continue to offer compelling features and improvements to both small-scale and enterprise-scale developer communities.
Rocket Software and Uniface
Rocket Software acquired Netherlands-based Uniface, known for its open-source application platform that accelerates innovation by lowering the disincentive. The entities that comprised Uniface and its employees have now all been incorporated into Rocket, which already has significant operations in the Netherlands.
Rocket has decades of expertise in IBM Z, IBM Power, and database and connectivity solutions, which enable them to help global companies to achieve their business goals.
Uniface is an enterprise-grade low-code application platform, facilitating developers' focus on the front-end (UX and business logic) and enabling mission-critical applications to be launched faster. Rocket asserts that the COVID-19 pandemic has shown the use of low-code solutions. This acquisition has broadened Rocket's application development and modernization capabilities and provides strategic investment in future innovation for more improved developer usability and end-user customer experience. Uniface's customer-centric R&D philosophy is incorporated into the rocket team's efforts to increase the Uniface low-code development platform's value to companies. The overall effect of Rocket's expanded R&D investment and larger developer pool benefits developers and users alike, which is why Rocket's vast rapid application development experience is now available on the Uniface low code application platform. Similarly, all Uniface partners benefit from Rocket's long history of partnering with ISVs to continuously design and deploy innovative and sophisticated applications through investments in innovation.
Google and AppSheet
Google acquired AppSheet, an eight-year-old one that uses no programming. With this acquisition, Google got a simple tool for app development for companies that want to write mobile apps without writing a line of code. By the union of these organizations, enterprises empower millions of citizen developers to make more effective use of third-party tools to design and build applications without any professional development. Google presents an opportunity for AppSheet to expand and to enter a larger market. The overall benefits, including increased functionality, scale, and performance, are significantly improved by integrating more deeply with some of Google's unique assets like G Suite and Android. AppSheet's strengths, given its deep knowledge of the industry, are with Google Cloud, which provides a comprehensive understanding of verticals such as financial services, retail, and media and entertainment. According to Google, the acquisition helped them continue to use workflow automation, application integration, and API management to provide no-code working and advancement.
The above acquisitions demonstrate how low code specialized platforms have become prevalent. The driver for such a high uptake is the allowance for quick creation and use of working applications that can address the specific process- and data needs of the organization. The usefulness of low code development platforms to large and mid-sized companies needs to be recognized as both a capability-enhancing agent and a product offering. Such symbiotic investments also expedite product innovation, thus reducing product development costs and creating a continuous market for affordable and customizable Kubernetes capabilities. We, at SA, continue to see significant investor interest in low-code providers and specialists and expect the range of opportunities within the segment to grow significantly.
To share feedback on this blog or explore transaction opportunities for your firm with us, please write to us at [email protected].