The mass migration of employees from offices to their homes is one of the biggest challenges the pandemic has brought to the IT departments. Organizations have been leaning on IT Service Management (ITSM) to seamlessly manage new ways of working, and remote support. ITSM refers to all the activities involved in designing, creating, delivering, supporting, and managing the lifecycle of IT services. The pandemic has been a testament to the fact that ITSM can be as effective and as successful as ever, even under times of great stress and change. According to ResearchAndMarkets,  the global market size for Cloud-Based ITSM estimated at $6.5 billion in the year 2020, is projected to reach $16.5 billion by 2027, growing at a CAGR of 14.2% over the period 2020-2027.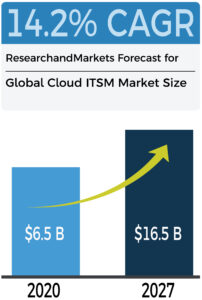 ITSM implementation helps standardize processes through structured delivery and documentation and saves costs by building a predictable IT organization and bringing actionable IT insights to drive business decision-making. As the market share leader in the ITSM space, ServiceNow continues to expand its lead and as we learned at their recent investor call, grew revenues more than 30% from $3.46 billion to $4.5 billion in 2020. ServiceNow's continuous focus on innovation and experience has been a key part of its playbook. . For instance, ServiceNow's new IT Service Management product is focused on providing a single platform connecting ITSM and non-IT workflows, augmented by a set of native AIOps and ITOM extensions. As a result of ServiceNow's dominant market position, they have quickly built a strong partner ecosystem around the product with specialized capabilities, including professional services and integrations. 
ServiceNow's transition to remote working was enabled by its strong ITSM capabilities and tight integration with its partners and service providers. To simplify running operations for clients, the company extended workflows to include partners who could handle key activities with much less effort. The following are the top ITSM trends catalyzed by the pandemic, which ServiceNow, offers to facilitate companies in their digital journeys: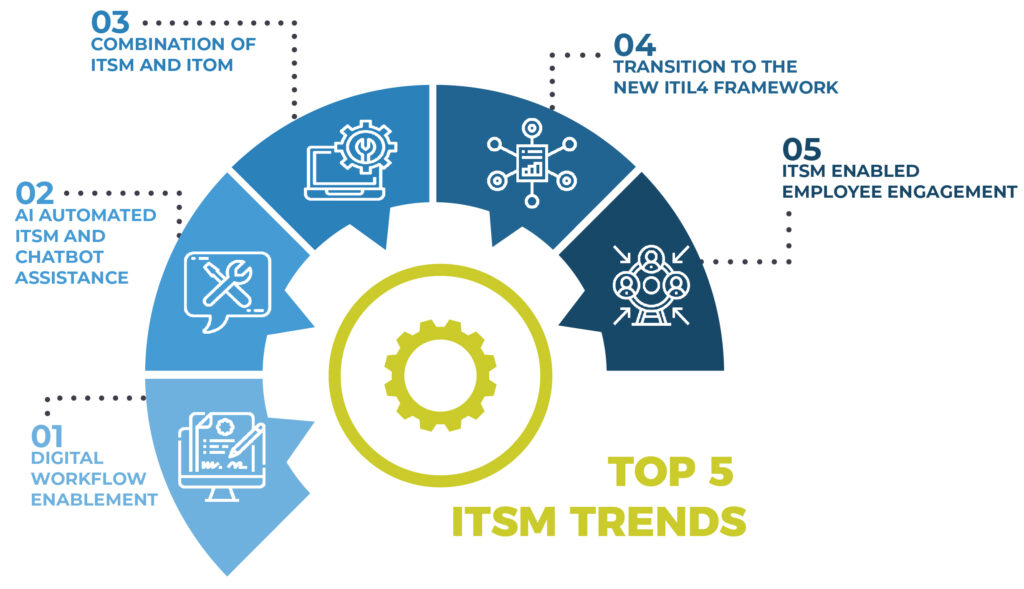 Given the need for digital workflows, fueled by the rising mobile workforce and security and privacy concerns,  to enable new ways of working brought about by the pandemic, the rise of Digital Transformation is not surprising.  While Digital Transformation means moving with higher velocity to deliver products and services, an organization needs ITSM to provide governance, stability, and understanding at the business governance level.  By using ITSM, organizations gain clarity about how services connect and how data is protected while enabling and supporting digital delivery. By freeing up IT staff to concentrate on greater value-adding tasks, also provides a quicker and better service experience for the employee. Recently, Milestone Technologies, backed by private equity firm H.I.G. Capital, acquired ServiceNow Elite Partner and managed IT services provider Covestic of Kirkland, Washington.

Effective automation can improve the speed, accuracy, and output of incident and change management processes, helping manage costs and improve the quality of IT services. AI has huge potential to revolutionize the way IT service desks and service desk teams work, but service desks must undergo preparation if they're to realize the full benefit. To ensure AI delivers its full potential, both data and service desk processes must be improved, teams must properly document all requests, problems, and changes, maintain an accurate service desk database, and build an in-depth knowledge base as ITSM tool vendors begin to integrate AI into their products. Earlier this year, UST Global, which provides Digital Transformation solutions, acquired the ServiceNow business unit of Abhra Inc, an IT automation solutions company. 

The IT service value chain is made up of two parts: ITSM and ITOM and both the components have similar objectives, customers, overheads, and risks. To use ITSM and ITOM in cohesion requires planning and efforts on both sides, but it helps maximize business value and agility. The combination can end up becoming truly revolutionary for IT maturity and end-user experience. The combination of ITSM and IT operations management (ITOM) improves visibility and data consistency while enabling more advanced automation and intelligence across IT teams. By broadening their IT management to include machines and people, many current ServiceNow customers have reduced high-priority incidents and VPN outages, and shortened service restoration times, saving the organization thousands of employee work hours. Earlier this year, private equity firm Sunstone Partners acquired Novo/Scale, a Premier ServiceNow partner, that has completed over 1,000 projects focused on managed services, ITSM, ITOM, Integrations, Portal, and several others.

This structured approach to ITSM has been the hugely anticipated evolution to the ITIL (IT Infrastructure Library) framework and it builds on the core elements of ITIL. Using ITIL4, IT organizations and IT professionals can surmount challenges that are brought on by emerging digital technologies. With the introduction of ITIL 4, ITSM practitioners now also benefit from a holistic approach to service management via its new operating model and easier integration with other ways of working such as DevOps, Agile, and Lean. ITIL 4 provides an emphasis on the business and technology world, how it works today, and how it will work in the future with Agile, DevOps, and Digital Transformation. Creating a clear engagement with business needs and working end-to-end with all stakeholders is essential to value co-creation. ITIL should be adopted for the entire IT function rather than a framework for ITSM alone. 

Employee engagement as it relates to ITSM can be defined as a connected experience for employees that is seamless, efficient, and takes full advantage of the tools and technologies available through the service desk, like mobile apps, chat, or the service portal. The increased reliance on technology to work, and to deliver the required outcomes makes employee experience an ITSM trend that IT service desks have to take seriously. IT teams have to rapidly scale their core capabilities, such as incident management, user, and license management for new devices. Similarly, self-help IT portals can assist with organizing, streamlining, and automating the resolution of simple queries. Bringing people together in face-to-face meetings, workshops, forums, and potentially simulations, and to help address the potential for resistance (to change). According to research by Harvard Business, an engaged employee is 45% more productive than a merely satisfied worker. If done rightly, employee experience improvements can provide a much-needed return on investment for an organization.

According to ChannelE2E's compilation of deals, so far eight ServiceNow partners have been acquired this year. Many of the vendor's competitors rely on third-party partnerships for this extended functionality. Major IT players and Strategic Investors are propelling to build or expand their practices around ITSM capabilities, within which ServiceNow continues to be the leading ISV Ecosystem. As most mid to large IT Services players bulk up their ITSM practice, they are looking at complementary ServiceNow partners with specialised capabilities to complement their ITSM and broader Managed Services portfolio.  Companies are investing in ServiceNow's ITSM partners based on new features and capabilities that are expected to replace their existing legacy systems. In turn, ServiceNow partners get access to more sophisticated resources, geographies, and larger global clients to take growth to the next level through such strategic investments.