The Covid-19 pandemic has led to an inevitable surge in the use of digital technologies due to the social distancing norms and nationwide lockdowns, leading to a rise in the pace of business process automation, including the digitization of physical spaces, activities and human interaction. The world is on the cusp of major technology disruption – and that has brought major opportunities. Digital transformation is driving accelerated business innovation with technologies such as the Internet of Things, Augmented Reality, automation, artificial intelligence and data- all fueled by the cloud. With a track record of 15+ years of delivering massively scalable cloud services, Microsoft remains a leading global provider of cloud computing services for businesses of all sizes. This has led to companies investing in Microsoft Dynamics 365 service capabilities, which refer to a family of modular, interconnected Microsoft applications across ERP and CRM. The popularity of Microsoft Dynamics 365 has in turn raised the demand for Microsoft partners which help customers with a range of information technology (IT) projects and specific products and services. As companies increasingly realise how these partners are helping customers build resiliency, adapt to change and overcome challenges, and enhance their platform capabilities, strategic investments for Microsoft Dynamics partners are likely to increase.
With their differentiated approach to business engagements, Microsoft Dynamics partners have been able to win customers by making them more modular, extensible, and AI-powered. In the third quarter of 2021, Microsoft's Dynamics products and cloud services revenue growth increased by 26%, over the last year, further validating Microsoft's focus on accelerating growth in the Dynamics segment and its rising adoption across enterprise customers. Microsoft Dynamics Platforms partners are democratising business processes by using RPA and AI in Microsoft Ecosystems via Power BI and Softomotive. They are enabling businesses to automate their processes and workflows, based on their platforms with a multitude of features. The partner ecosystem is so critical to Microsoft, that partners influence more than 95% of Microsoft's commercial revenue, either directly, or in partnership with Microsoft. In order to build applications and system solutions on top of the Microsoft ecosystem, Microsoft Dynamics partners are investing in the training and development of their employees as well as in Microsoft capabilities. The following are some Strategic Partnerships specialized Microsoft Dynamics 365 partners have entered into with established global enterprises across verticals over the last 12 months, highlighting the rising investor interest in Microsoft partners with specialised capabilities: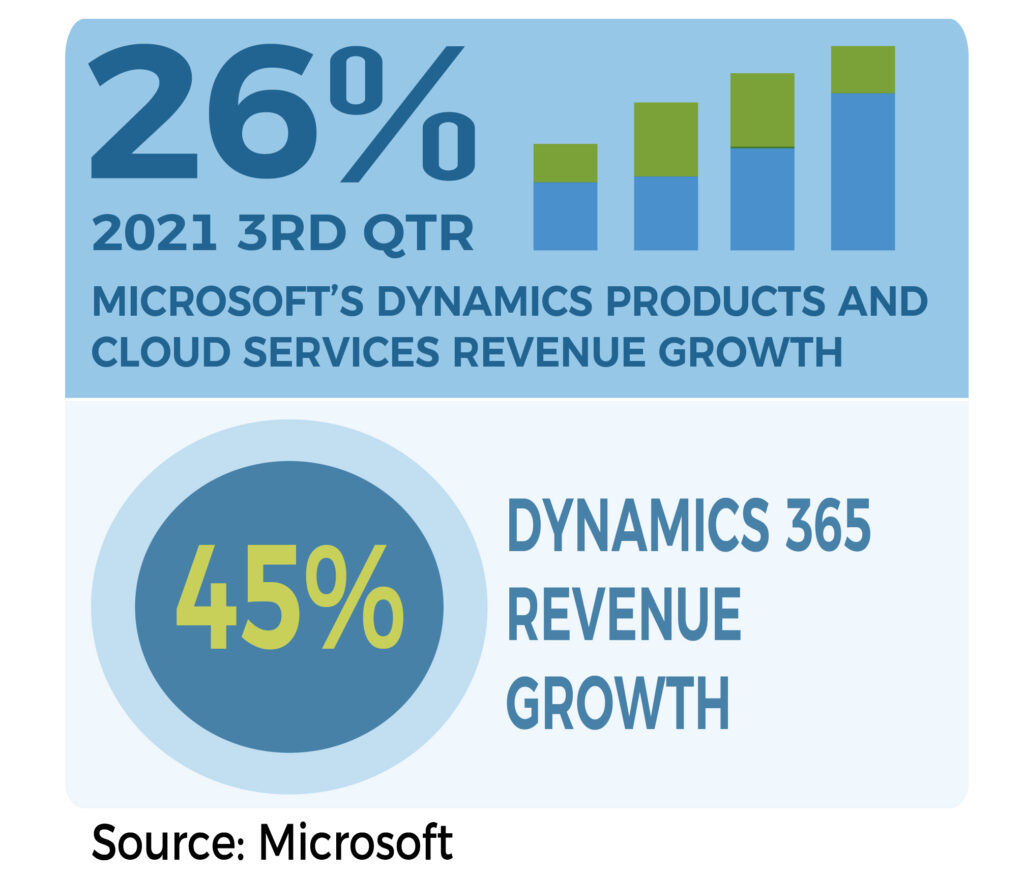 European MSP Node4 with the backing of private equity firm Providence Equity Partners, acquired Microsoft Dynamics 365 cloud consulting partner TNP. With around 200 employees in the UK, TNP,  a Microsoft Gold Partner for ERP, Application Development, and Cloud Platform, has also earned additional Microsoft certifications in Small and Midmarket Cloud Solutions, Data Analytics, and Application Integration. TNP's technical capabilities and credentials in NAV, Business Central, and Power Platform perfectly complement Node4's already comprehensive portfolio of services that include remote working, security, connectivity, data center hosting and cloud services, leading to transformed and enhanced unified communications and collaboration.
When BroadPoint, a Microsoft Gold Certified Dynamics 365 partner, was acquired by Harren Equity Partners-backed Velosio, its Microsoft Dynamics offering in the Eastern United States and overall expertise got bolstered by the addition of BroadPoint. Through the acquisition, Velosio could not only expand its industry footprint by helping businesses realise value faster through expert delivery of cloud technologies but also added more specialised Microsoft Dynamics capabilities and certified experts to the Velosio team. 
In Avanade's acquisition of Quantif, a London based, Microsoft Dynamics 365 partner, it managed to expand its client offerings, making use of its entire range of technologies and service capabilities, as well as gain access to a global network of Dynamics professionals to help serve its international client base. 
We can safely say that enterprises worldwide are looking to deepen Microsoft's capabilities and expertise to dominate the growing market for intelligent and scalable business platforms. The Microsoft partner ecosystem is extensive, diverse and powerful and increased M&A and rising investment in these partners highlight the unique opportunities for specialised Dynamic 365 companies to fuel growth and de-risk the business from supply-side constraints in todays' brisk demand environment. We, at SA, believe that by investing in Microsoft partners, companies that build resiliency, adapt to change and overcome challenges, take advantage of new opportunities and realizing growth are particularly relevant. 
To share feedback on this blog or explore a potential transaction opportunity you may be considering, please write to us at [email protected]