As we commence 2022 with an even more exciting time for the technology ecosystem, we present to our readers a brief round-up of deals, our perspective and trends within the AI sector in 2021.  As one of the key sectors of interest for SA and our global investors,  throughout 2021, we saw that despite global uncertainty caused by the Covid-19 pandemic, the Artificial Intelligence sector continued to break funding records in both 2020 and 2021, with investors pouring $17.9 billion into global AI startups in the third quarter of 2021, according to CB Insights. The amount of money raised by the cohort of companies has risen every quarter since Q1 2020 when AI startups raised a local minimum of $6.3 billion. And it is further expected to grow rapidly in the coming years, reaching around $126 billion by 2025, according to Statista, meaning that organizations in certain AI-powered sectors that don't embrace the trend could find themselves lagging behind their competition.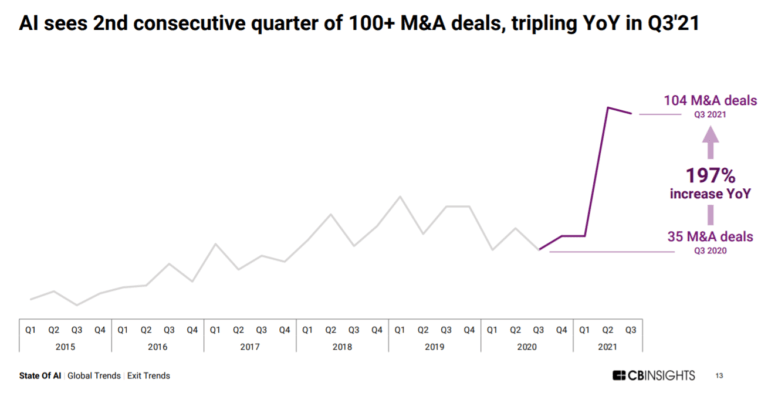 Based on research SA conducted in the past months, we found that 80% of Technology Entrepreneurs and Digital Executives view AI and machine learning as the top area, where their organization should be investing more in the immediate future. However, more than 2/3rd (66%) of this group of executives also said they did not have a process in place to identify and prioritize the right investment opportunities. "Developing AI-based technology is not cheap or fast, and most tech providers will find it more efficient and effective to acquire rather than develop in-house."- Fred McClimans Technology and equity analyst, Futurum Research. 
While there is clearly no one-size-fits-all approach to prioritizing AI investment areas, our research indicates that AI companies building unique capabilities are increasingly attracting investment from executives who are looking to invest in AI-driven business transformation in multiple sectors ranging from retail and medical to gaming and fintech. The following is a round-up of recent acquisitions in the AI space in 2021, collated by us, at SA, to highlight the importance of the technology across multiple sub-sectors.
Avanade's acquisition of Altius 
Avanade's strategic acquisition of Altius, for an undisclosed amount, brought Avanade additional depth of expertise in data platform, managed services and data visualization capabilities and enhance their ability to deliver AI at scale. Combining Altius' blend of in-depth technical knowledge and advanced architecture skills with Avanade's breadth of offerings and its close partnership with Microsoft has enabled clients to realize the true value of their business data. In addition, Altius' expertise in enterprise performance management is a valuable addition to Avanade's technology capabilities. Altius continues to offer its clients the leading innovative data and AI solutions its known for, while also extending its offerings to include more business solutions.
About Altius: Altius is a UK-based company specializing in helping companies harness their data and use it to drive improved business performance.
About Avanade: Avanade is the leading provider of innovative digital and cloud services, business solutions and design-led experiences on the Microsoft ecosystem.
Mindtree's acquisition of NxT Digital
Mindtree's ₹198 crore acquisition of NxT Digital enabled Mindtree to capture opportunities in the IoT and Industry 4.0 market by leveraging NxT Digital Business capabilities to cross-sell and create holistic solutions for new prospects as well as for existing clients. The acquisition complements Mindtree's significant strengths in re-imagining consumer experience, positioning the company as one of the leading partners for leveraging data and analytics to drive insights and deliver transformational services to clients.
About Mindtree: A global technology consulting and services company, helping enterprises marry scale with agility to achieve competitive advantage.

About NxT Digital: cloud-based IoT and AI platform for Industry 4.0 of L&T Group.
Project44's Acquisition of Convey
Project44 acquired the management company of the Convey delivery experience for a purchase of $255 million. With the symbiotic acquisition, Project44 and Convey connected more than 880 global shippers and third-party logistics providers to a network of 113,000 carriers, 2.6 million assets and more than 9 billion shipments. Together, the companies serve the global end-to-end supply chain and help shippers increase revenue and improve costs, speed and the overall delivery experience. 
About Project44 : Chicago-based supply chain platform offers technology to help shippers and logistics service providers see where their shipments are located.
About Convey: Austin-based Convey, a provider of delivery experience management software helps shippers connect disparate data and processes from parcel to freight in the last mile.
Eagle Eye Networks' Acquisition of Uncanny Vision
This strategic addition of Uncanny Vision's AI and analytics to the Eagle Eye platform helped the company to offer new features and bring more value to their customers, resulting in a good way to increase customer retention. Uncanny Vision's technology and talent, have helped Eagle Eye to more rapidly scale its offering to improve safety, security, and customer service, and bring actionable insights to the growing global customer base. All Uncanny Vision employees have been retained with Eagle Eye's further plans to expand its Bangalore office.
About Eagle Eye Networks: A global provider of Cloud-based video surveillance products and solutions.
About Uncanny Vision: Developer of next-generation intelligent surveillance solutions for smart cities, smart buildings and infrastructure specifically for people and vehicle monitoring using security cameras.
ERM's acquisition of OPEX Group
The symbiotic acquisition has further enhanced ERM's growing digital business, and expanded its data analytics and AI capabilities to support clients seeking to operationalize sustainability and lead the low carbon economy transition. The addition of OPEX Group has enabled ERM to scale AI-enabled emissions reduction solutions to its global client base.  OPEX benefits from ERM's global scale, network and expertise in sustainability, helping it to further extend its reach and capabilities.
About ERM: The world's largest pure-play sustainability advisory firm, partners with the world's leading organizations to meet the needs of today while preserving opportunities for future generations.
About OPEX Group: A specialist software company delivering AI & data science solutions that help carbon-intensive industries reduce emissions.

IBM's acquisition of Turbonomic 
Turbonomic is the latest piece in IBM's effort to pivot the enterprise technology provider toward multi-cloud software that drives business automation. The strategic acquisition provides IBM partners and customers with "full stack application observability and management to assure performance and minimize costs using AI to optimize resources – such as containers, VMs, servers, storage, networks, and databases. Turbonomic stands to reach and serve a more robust customer base on joining forces with IBM. 
About IBM: One of the world's leading professional services companies, transforming clients' business, operating and technology models for the digital era.

About Turbonomic: A leader in artificial intelligence (AI) and machine learning (ML) and specializes in advanced analytics, business intelligence/market intelligence and data science.
More than two years into the pandemic, governments and organizations are still responding to and recovering from it. While there has not been an antidote found to end the pandemic and solve all its consequences, AI is seen as a key tool in helping businesses and organizations respond to the need to digitize business operations, and processes to make an operate-from-anywhere remotely work model feasible. To meet the shift in business demand due to the new normal, enterprises are investing increasingly in specialized AI companies, which can bring in complementary solutions to address growth opportunities and broaden their Digital Transformation journeys. 
To share feedback on this blog or explore transaction opportunities for your firm with us, please write to us at info@saglobaladvisors.com.