Over the last decade, advances in the information technology world have grown exponentially, especially in Artificial Intelligence, which has transformed from a buzzword to a must-have business capability. To obtain real-time analytics, automate decision recommendations and new opportunity intelligence, businesses ranging from healthcare and retail to financial services are investing in AI. While the earlier use cases for AI were often driven by cost and efficiency improvement, we see a shift in the industry where more companies are now using AI to increase revenues. Interestingly, while we may have seen some softening in terms of pace of investment in the AI sector, we continue to see the revenue per investment dollar and value creation increase as the technology and use cases mature and deliver greater RoI.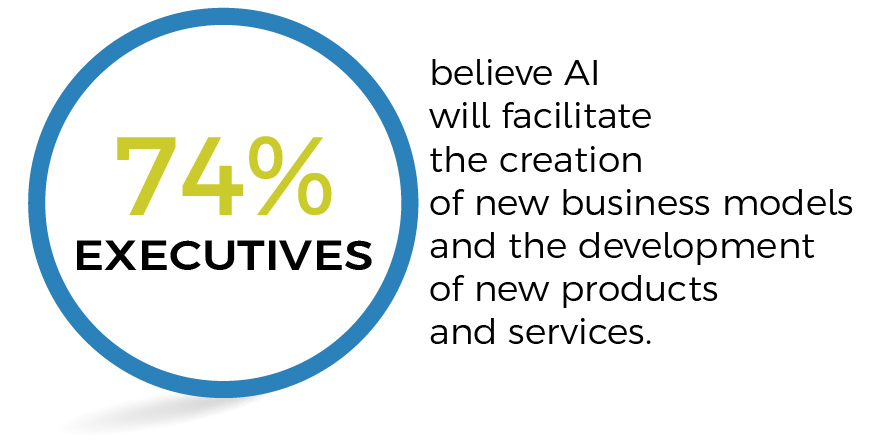 For instance, as per CB Insights, global funding for AI decreased from $17.9 B in Q'3 2021 to around $11.8 B in Q2' 2022. However, the business value derived from AI from 2017 till 2022, has been around $3923B, as estimated by Statista. We believe this will compel more organizations who have been hesitant to embrace the trend to adopt AI this year or risk lagging behind their competition.This in turn is expected to drive further expansion and growth as AI finds a broader market and adoption increases across sectors in 2023.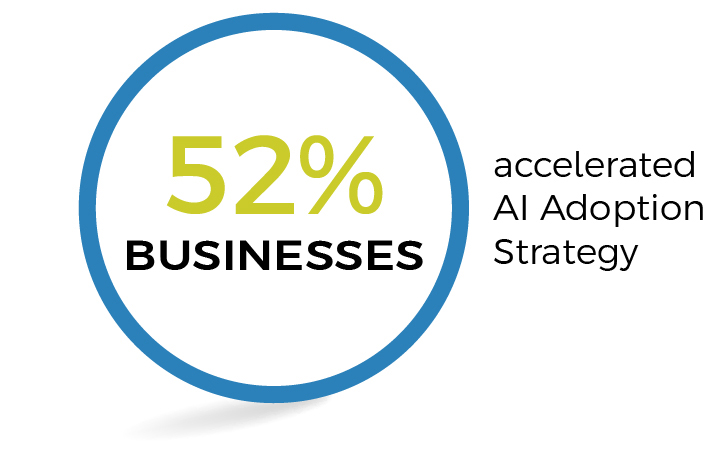 Top sectors who have invested or are likely to invest in AI are industrial product companies, retail and consumer brands, financial services, TMT groups, healthcare organizations, and firms belonging to energy, utilities and mining. Among these cohorts, we found that 52% of businesses quickened their AI adoption strategy. On consulting with top business executives from the cohort, it was evident that 74% of business executives believe AI will facilitate the creation of new business models and the development of new products and services.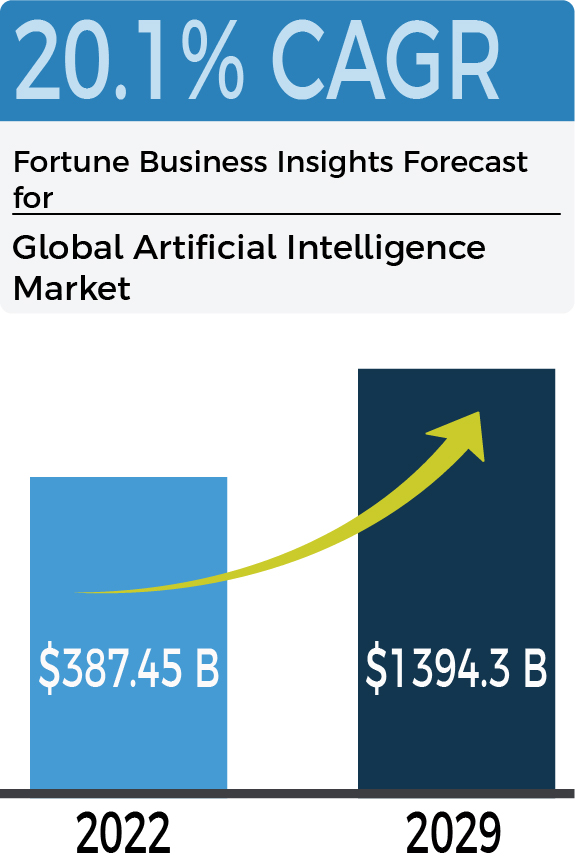 Following a CAGR of 20.1% between 2022 and 2029, the global artificial intelligence market is expected to rise from $387.45 billion in 2022 to $1,394.3 billion in 2029. This phenomenon is mainly attributable to the recent developments in AI, which quickly allow businesses to enter new markets and develop cutting-edge products and methods of doing business.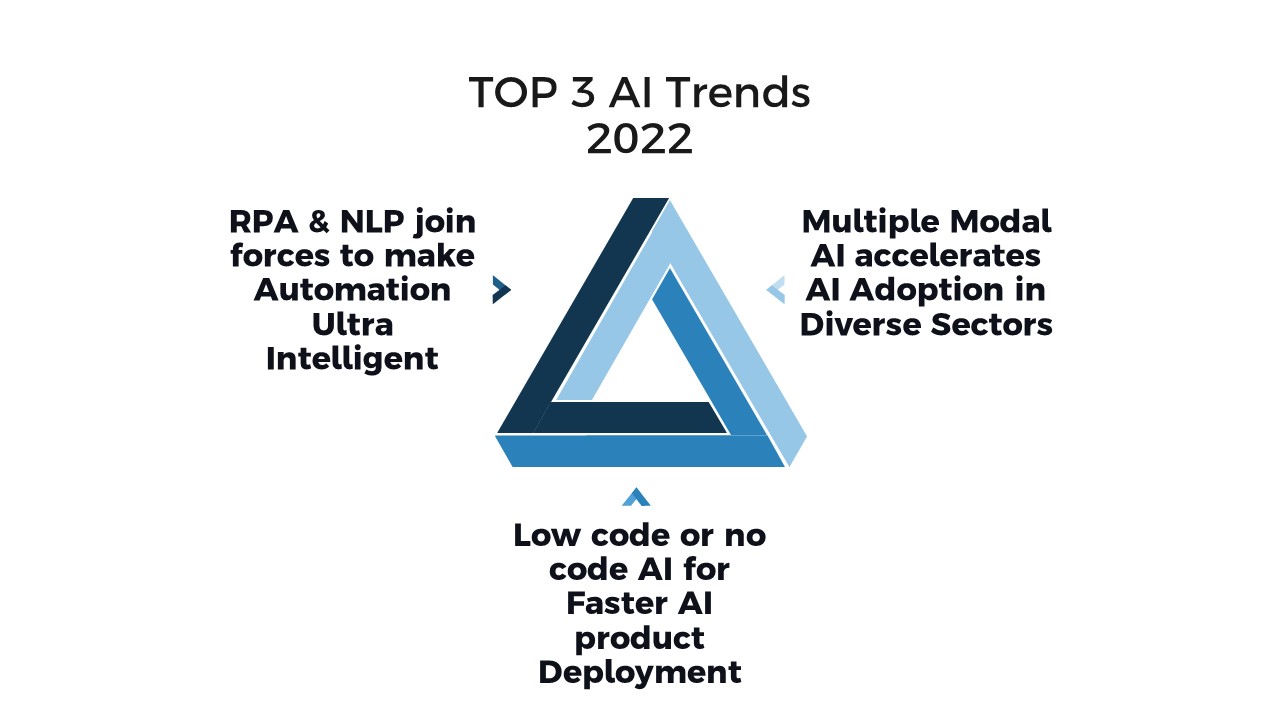 While there is no one-size-fits-all approach to prioritizing AI investment areas, our research indicates the following are the top 3 recent AI tech trends that are increasingly attracting investment from executives who are looking to invest in AI-driven business transformation:

Multiple Modal AI accelerates AI Adoption in Diverse Sectors
Deep learning algorithms traditionally rely on a single data source regarding training models. A computer vision model, for instance, is trained with a collection of images, whereas a natural language processing (NLP) model is trained on textual content. The underlying AI in each of them only operates in one mode, and the output is converted to one specific data format. To improve the accuracy of AI, multi-modal AI combines different kinds of data (such as images, audio, and text) with varying algorithms.
Booz Allen invests in Synthetaic
Synthetaic is an artificial intelligence (AI) software startup that received funding from Booz Allen Hamilton, a government IT consultancy and security giant. The Delafield, Wisconsin-based company Synthetaic employs nineteen people. It is a classic example of multi-modal AI trained for various and diverse industrial applications. By using the company's software, clients can hasten the spread of artificial intelligence in fields including the military, medicine, climate study, and environmental protection.

One of the biggest problems businesses face today is a need for qualified AI experts. New approaches will emerge to address the shortage of AI programmers, analogous to the rise of no-code or low-code platforms for building websites and mobile apps. In 2022, businesses will explore no-code AI systems with user-friendly interfaces for developing intelligent programs from a library of pre-made components.
Altair Invests in Low Code AI platform RapidMiner
Altair, a Michigan-based provider of computational science and AI solutions, has invested in RapidMiner (headquartered in Boston, MA), a provider of a software-as-a-service (SaaS) based advanced data analytics and machine learning (ML) low-code platform. Altair's DA market position is strengthened by RapidMiner's industry knowledge, industry-specific ML techniques, and data source connections, particularly useful in the manufacturing and financial services sectors. Altair Knowledge Studio, Altair SmartWorks, and Altair SLC will be combined with RapidMiner to form a unified, code-optional, multi-language, SaaS-ready, cloud-scale platform for enterprise data analytics and data science.

RPA & NLP join forces to make Automation Ultra Intelligent
Using natural language processing (NLP) with robotic process automation (RPA) can aid in analyzing and extracting data that is either structured, unstructured, or semi-structured. RPA providers, to stay up with the demand and bandwidth of automation, will need to extend their NLP skills through AI-driven processes. Natural language processing (NLP) can significantly impact many fields and sectors by adding a humanistic touch to the automation of end-to-end procedures.
UiPath's investment in Natural language processing firm Re: infer
UiPath, a developer of enterprise automation software, recently announced that it had acquired Re: infer, a provider of natural language processing solutions for unstructured documents and communications. Re: infer uses machine learning techniques to extract useful information from text communications. Integrating Re: infer's NLP technology with UI Path's existing Document Understanding and AI products opens up new avenues for automation for their customers.
Conclusion
We at SA firmly believe that every organization requires small or large-scale AI products. We are facilitating AI companies interested in enhancing their businesses and evolving product roadmaps with suitable investments to realize their strategic vision.
The above strategic investments and acquisitions demonstrate how entrepreneurial companies are unlocking growth through improved access to flexible capital and symbiotic partnerships. While we see increasing investor interest from both financial and strategic investors, we believe 2023 is likely to be a year where strategic investor participation in AI companies grows considerably. As we have seen in other sectors, as any business strives towards improvement, its competitor improves at the same rate. To gain an edge over competition and not be stuck in a perpetual second place, several strategics are investing increasingly in specialized AI companies, which can bring in complementary products and solutions to address growth opportunities and broaden their Digital Transformation journeys. This should create immense opportunities to partner or invest in various sub-sectors ranging from Intelligent RPA partners to NLP-driven AI product makers, Multimodal AI specialists, etc. and together build intelligent products at an accelerated pace. We, at SA, continue to see significant investor interest across the AI and Data-first solutions as many of our global investors increase allocation to companies in this sector in 2023.
To share feedback on this blog or explore transaction opportunities for your firm with us, please write to us at [email protected].