The pandemic pushed even more businesses to accelerate their cloud journey and use of cloud services across — infrastructure, platform, or SaaS, resulting in a large number of investments, eye-popping IPOs and tremendous revenue growth for cloud companies in all segments. Further validating cloud's value proposition are advanced technologies such as Big Data, Artificial Intelligence (AI), 5G, Internet of Things (IoT), that depend on cloud technologies to be implemented and applied and have a foundation that provides a common platform and simplified service delivery and support. The combination of advanced technology ecosystems and rapid innovation in Cloud Technologies has created a great opportunity for Cloud specialists to act quickly to develop products and services based on the changing business needs. The global cloud computing market size is expected to grow from USD 445.3 billion in 2021 to USD 947.3 billion by 2026, at a Compound Annual Growth Rate (CAGR) of 16.3% during the forecast period, according to Research & Markets.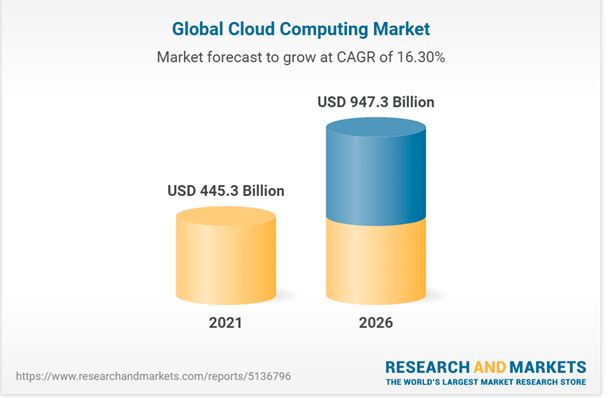 According to a recent survey from Flexera on IT budgets, money is flowing toward Microsoft Azure and its SaaS offerings, Amazon Web Services,  and Google Cloud Platform(GCP). The COVID-19 pandemic has provided rocket fuel to the already rising top three cloud providers- Amazon's AWS, Microsoft's Azure and GCP. The already large and growing demand for capabilities across the three cloud ecosystems is driving many mid-sized Global IT and Cloud solutions players to take the "buy" vs. "build" approach to expand their AWS, Azure and GCP capabilities by investing in specialised Cloud partners. The following are a few recent strategic investments that took place in 2021, highlighting the increased investment interest in specialised Cloud partners: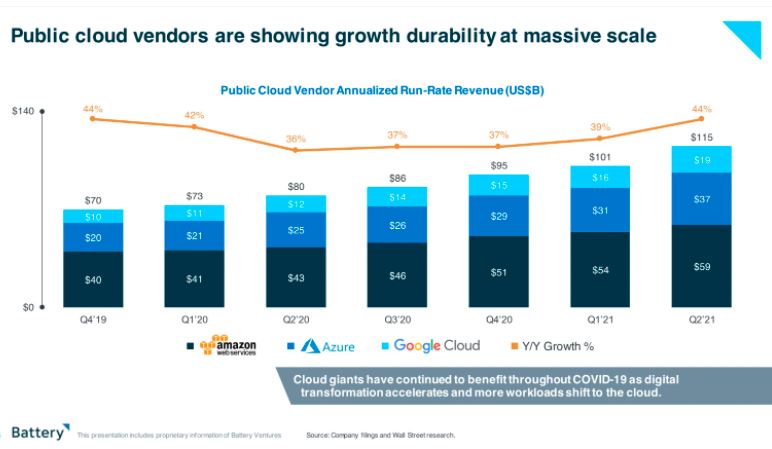 Unisys' acquisition of  Compugain

Unisys' $87.3 million acquisition of Amazon Web Services partner and cloud solutions provider CompuGain enables Unisys to enhance the delivery of rapid and agile cloud migration, application modernization and data value realization to its clients. CompuGain has a strong presence in financial services, which will add to Unisys' established position in that industry. It will also create cross-selling opportunities with both Unisys clients and CompuGain clients across multiple industries. Unisys expects the addition of CompuGain to drive revenue and profit growth and increased cash flow.
About Unisys: Unisys is a global IT solutions company offering digital workplace solutions, cloud and infrastructure solutions, enterprise computing solutions, business process solutions and cybersecurity solutions. The acquisition of CompuGain is the company's second in recent months.
About Compugain: CompuGain is an AWS Advanced Consulting Partner that serves roughly 35 Fortune 1000 Companies within highly-regulated vertical markets.

ConvergeOne's acquisition of Prime TSR

ConvergeOne, backed by private equity firm CVC Fund, acquired Amazon Web Services (AWS) partner Prime TSR represents a natural progression in its ongoing strategy to deliver innovative, cloud-based solutions to its customers.

About ConvergeOne : Based in Eagan, Minnesota, ConvergeOne provides cloud, collaboration and digital infrastructure solutions. ConvergeOne serves more than 10,400 customers, including 62% of the Fortune 100 and 48% of the Fortune 500 customers across the healthcare, finance, manufacturing, education and energy industries,

About Prime TSR : Based in Chicago, Illinois, Prime TSR designs and implements cloud-focused software and data platforms for its customers. Founded in 2013, the company creates custom cloud-based applications and data platforms for Fortune 1000 companies in the healthcare, insurance and professional services markets.

Sikich's acquisition of PA Group USA

Sikich's acquisition of PA Group USA, a Microsoft Dynamics partner, helps it strengthen its key capabilities as it continues to support manufacturers in their digital transformation journeys. A Microsoft Dynamics Gold Certified Partner and Cloud Solutions Provider, PA Group USA offer ERP, CRM and MES consulting, alongside business intelligence, marketing automation and cloud and IT infrastructure services. Our team and our clients will benefit from access to Sikich's deep bench of experts and wide range of digital transformation capabilities

About Sikich: Sikich, armed with roughly 1,000 employees, is a CPA firm that specializes in technology-enabled professional services. In addition to Dynamics expertise, Sikich focuses on business applications and workplace productivity, security and compliance, artificial intelligence, machine learning, blockchain and robotic process automation.

About PA Group USA : A Microsoft Dynamics Gold Certified Partner PA Group USA is an enterprise software and cloud services firm that implements and optimizes enterprise resource planning, customer relationship management and manufacturing execution systems.
Avanade's acquisition of Quantiq

With an emphasis on Dynamics 365, Power Platform and Azure, QUANTIQ will significantly extend Avanade's Dynamics 365 capabilities and build on its existing cloud-based Microsoft Business Application offerings – a key strategy for Avanade. Through the combination of QUANTIQ's ERP customer experience and Avanade's offshore engineering capabilities and broad expertise across the Microsoft platform, clients will benefit from enhanced solutions that will help accelerate digital transformation across all industry sectors, globally.

About Avanade: Avanade, majority-owned by Accenture, employs 50,000 professionals across 26 countries. With the most Microsoft certifications (60,000+) and 18 (out of 18) Gold-level Microsoft competencies, Avanade is uniquely positioned to help businesses grow and solve their toughest challenges.​ The company was founded by Accenture and Microsoft in 2000.
About Quantif : Quantiq, based in London, claims to be the "only Microsoft Partner in the UK that can sell, implement and support the full Dynamics stack in the Cloud, Hybrid-Cloud and On-Premise." The company has managed more than 1,000 Dynamics 365 projects for customers.
Accenture's acquisition of Wabion

Wabion's market-leading Google Cloud skills will further strengthen Accenture's global and local Cloud First capabilities, enabling clients throughout our region to create more value and accelerate their digital transformations. The combination of Wabion's expertise with Accenture's industry knowledge and end-to-end business transformation experience will help clients within the DACH market tap into local talent in addition to the vast resources of our Accenture Google Cloud Business Group.

About Accenture: Accenture is a global professional services company with leading capabilities in digital, cloud and security.

About Wabion: As a Google Cloud services provider, Wabion offers a full spectrum of consulting and implementation services for Google Cloud Platform and Google Workspace solutions, including integration, development, licensing, and training. Founded in 2004, Wabion has worked with established companies and digital natives on their cloud migrations, on cloud-native app development to build new cloud-based solutions and on Google Workspace deployments for online collaboration and workforce productivity.

Atos' acquisition of Cloudreach

Through Atos' acquisition of Cloudreach, it welcomes over 600 highly skilled cloud professionals to further strengthen its global cloud expertise. Cloudreach brings extensive cloud-native expertise and rich global partnerships with AWS, GCP and Azure including the recently signed AWS Strategic Collaboration Agreement and the announcement of Cloudreach as the 2021 AWS Consulting Partner of the Year for UKI. Atos will also further strengthen its cloud innovation and automation with the leading Cloud planning and assessment software Cloudamize, which brings new capabilities in cloud migration, to its Atos OneCloud practice.

About Atos: Atos is a global leader in digital transformation with 107,000 employees and annual revenue of over € 11 billion. European number one in cybersecurity, cloud and high-performance computing, the Group provides tailored end-to-end solutions for all industries in 71 countries. A pioneer in decarbonization services and products, Atos is committed to a secure and decarbonized digital for its clients. Atos is a SE (Societas Europaea), listed on Euronext Paris and included in the CAC 40 ESG and Next 20 Paris Stock indexes.
About Cloudreach:  Cloudreach is a leading multi-cloud services company specialising in public cloud application development and cloud migration, with strong partnerships with all three hyperscalers.

Companies in sectors ranging from retail and banking to telecommunications and industrials, that have been quick to digitally transform in the face of the pandemic by investing in cloud technologies, have seen better performance and growth than others. SA's focus on cloud technology finds that it is undeniable that Cloud Technologies will continue to play a crucial role in Digital Transformation in 2022 and beyond. We are seeing an influx of interest in cloud technologies from both strategic and financial institutional investors and entrepreneurs, who are now stepping up investments to ensure they are not left behind in this digital transformation race.

To share feedback on this blog or explore transaction opportunities for your firm with us, please write to us at [email protected]