Businesses ranging in size and scale constantly aim to increase their service quality and reduce costs but without any major change in existing processes. This is where Robotic Process Automation (RPA) comes into play.  In the simplest form, RPA is all about training a software robot to do new iterative tasks efficiently and at scale without changing the system involved. It has been estimated that using robotics for certain applications or processes can reduce operational costs by as much as 25-50%. 
Along with realizing the need for a more resilient and flexible operating model, the pandemic has also awakened businesses to the need for more automation, with technologies such as Robotic Process Automation (RPA). Without RPA, companies often miss out on great opportunities to boost efficiencies at a time when many are trying to contain costs. According to GrandView Research, the global robotic process automation market size valued at $1.40 billion in 2019 and is expected to reach $11 billion by 2027, expanding at a CAGR of 34% from 2020 to 2027.  
With the growing demand for RPA, organizations are looking for new ways to simplify and accelerate the adoption process and improve return on investment. Businesses in sectors ranging from healthcare and banking to supply chain and agriculture are investing in RPA to help tighten development cycles.  While banks, with the adoption of RPA, can offer swift customer service for both personal and business accounts, mobile banking options, and 24/7 chatbots, the supply chains are also being revolutionized by RPA by modernizing inventory management and forecasting.  
The fast-growing RPA software market continues to generate strong merger and acquisition activity, driven by strong customer demand for business automation and digital transformation tools. According to Gartner, the global RPA software revenue is projected to reach $1.89 billion in 2021, up 19.5% from 2020.  The following are some of the recent investments that have taken place in the RPA segment, which Gartner labeled as the fastest-growing segment of the global enterprise software market: 
Digital workflow company ServiceNow's acquisition of RPA company Intellibot to help its customers automate repetitive tasks, improve automation and integrate with both modern and legacy systems. 

RPA company UiPath having closed a $750 million Series F funding round at a post-money valuation of $35 billion, registering a more than a three-fold jump from a valuation of $10.2 billion in July last year when it raised $225 million in financing. The round was co-led by Alkeon Capital and Coatue. UiPath's automation platform provides customers with a set of capabilities to build, manage, run, engage, measure, and govern automation across departments within an organization.

QA Mentor acquired Step One Step Ahead, a privately held software consulting firm focused on RPA, to rapidly implement what the market needs and provide new, innovative solutions around RPA, Robotic Monitoring, Bot Auditing Robotic Test Automation for clients. 

Microsoft acquired RPA software developer Softomotive, to provide customers additional options for RPA desktop authoring so anyone can build a bot and automate Windows-based tasks. 
The RPA adoption is rapidly gaining traction as larger enterprises are looking to speed up their business processes by automating mundane office tasks. Additionally, by combining RPA with cognitive technologies like Artificial Intelligence, Machine Learning, Natural Language Processing, and Speech Recognition, businesses can take their automated tasks to the next level, having them perform work that in the past depended on human perceptual and judgment capabilities. RPA has helped accelerate Covid-19 testing, automate clinical testing for a viable vaccine, centralized health data for employees, and support increased use of contact centers. The potential use cases for RPA during these times include the exchange of information related to COVID-19 and its spread, the monitoring of network traffic, the processing of government loans to small businesses, and the management of cancellation or purchase orders from consumers. 
Based on the learnings of the pandemic, with RPA having earned a place in IT managers' toolkits as an easy way to streamline different business operations and make better use of raw data, the following are the top RPA trends that are likely to unfold in 2021: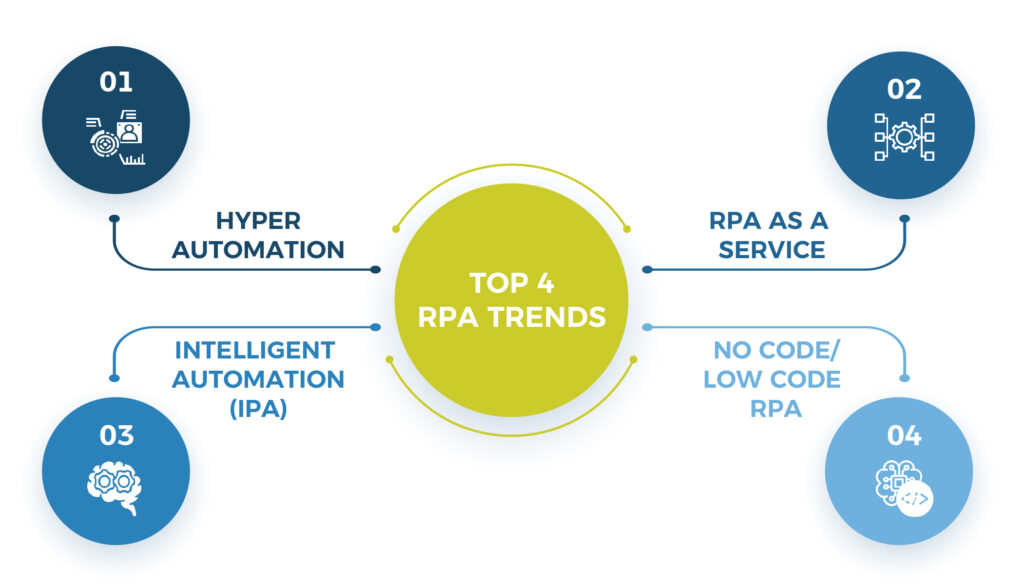 Hyperautomation will drive higher-level functioning from task automation to orchestration to intelligence, enabling predictive insights, guided recommendations, processing mining, and adaptive decision making. Hyperautomation can automate just about any use case that is a good candidate, unlocking a new realm of possibilities where even highly complex business processes can be automated from end-to-end. Gartner estimates the market for hyperautomation-enabling technologies will reach $596 billion in 2022, up nearly 24% from the $481.6 billion in 2020. In addition, hyperautomation providers are partnering with different companies to create and offer RPA solutions. For example, UiPath in 2019 entered into a partnership with DVT, an AI and data analytics software company in South Africa, in which the companies are developing advanced RPA solutions. According to Gartner, organizations will lower operational costs by 30% by 2024 by combining hyperautomation technologies with redesigned operational processes.

 Migration of RPA to the mainstream "as a service" model is being welcomed open arms by several industries during the pandemic. This adoption incrementally decreases development, deployment, and maintenance cost. RPAaaS helps companies to operate smarter and standardize processes across various divisions. It helps to increase collaboration and coordination in the organization and enhance customer services.


IPA is an emerging set of new technologies that combines fundamental process redesign with robotic process automation and machine learning.  The increasing adoption of process automation by the telecommunication industry, healthcare industry, BFSI industry, and IT industry is propelling the growth of the intelligent process automation market. According to Statista, global spending on IPA will rise from $8.4 billion in 2020 to $13 billion in 2023. A growing number of acquisitions is another major factor in driving market growth. For instance, Blue Prism's acquisition of intelligent automation company Thoughtonomy was aimed at enhancing the company's connected-RPA platform offering with the latter's Software as a service (SaaS) capabilities, which would enable customers to achieve improved productivity without the need for dedicated infrastructure.

Combining low code application development with RPA technology is particularly useful as it enables employees to build simple applications. It can be linked to their existing automation, thereby making it easy to run their automation, reducing their daily workload. No code RPA solutions aim to completely reduce the need to code for RPA. While most common RPA tools have been offering UX support for a long time, UX of common RPA tools tends to be rather restrictive and developers mostly rely on programming to automate processes.  Given that remote working is expected to continue, combining low code application development with RPA technology is particularly useful as it enables employees to build simple applications. It can be linked to their existing automation, thereby making it easy to run their automation, reducing their daily workload. Last year, SAP rolled out RPA, low-code tools to recruit citizen developers to its platform.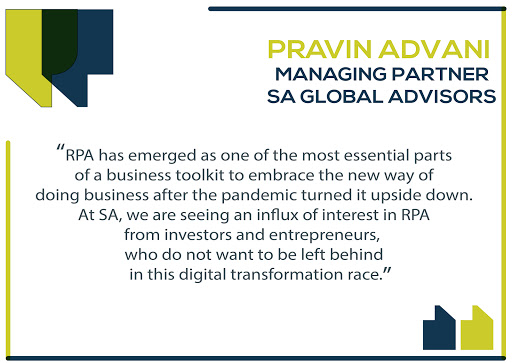 As we look ahead, a larger number of companies are investing in RPA in order to achieve and maintain a competitive advantage in their industry. By leveraging the tools available, which increase staff productivity and decrease costs—companies can enjoy higher operating capacity while delivering a superior customer experience. We, at SA, continue to see significant investor interest in RPA companies and expect the range of opportunities within the segment to grow significantly as specialized capabilities that combine RPA with AIOps and Cloud become important. Oftentimes, these specialized capabilities and focus can create a complementary set of offerings and expansion of go-to-market with strategic investments, partnerships, and M&A which can transform growth journeys in this exciting time in the RPA industry.