Remote and hybrid work environments increased the need for more efficient and secure managed IT and cloud solutions. As adopting a digital-first work model accelerated, the need for highly specialised resources in digital and cloud transformation and cyber security increased. GlobalData's deals database reported $2.9bn in North American technology industry cloud M&A deals in June 2022, led by Siemens' $1.88bn acquisition of Brightly Software. Worldwide cloud infrastructure services spending reached $55.9 billion in Q1 of 2022, up 34% compared to Q1 of 2021. The Big Three CSPs — AWS, Azure, and Google Cloud — grew at a combined 42% in Q1 of 2022 compared to Q1 of 2021.
Technology industry cloud M&A deals in North America: Value and volume trend - June 2021 to June 2022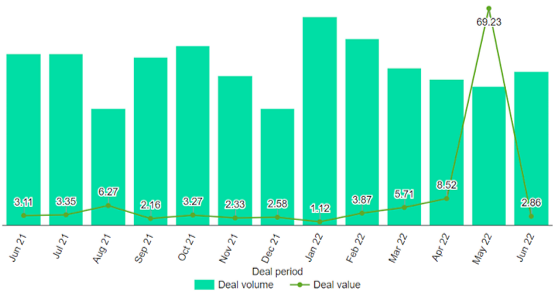 We see a drop of 69.2% in the deal value compared to the last 12-month average of $9.29bn. However, there was volatility in the Apr-Jun Quarter.
North America held a 75.66% share of the global technology industry cloud M&A deal value that totaled $3.78bn in June 2022. With a 75.66% share and deals worth $2.86bn, the US was the top country in North America's cloud M&A deal value across the technology industry.
Regarding cloud M&A deal activity, North America recorded 42 deals during June 2022, marking an increase of 10.53% over the previous month and a drop of 4.55% over the 12-month average. The US recorded 36 deals during the month.
Worldwide cloud infrastructure services expenditure grew 23% year on year in Q4 2022 to reach US$65.8 billion, an increase of US$12.3 billion. For 2022, total cloud infrastructure services spending grew 29% to US$247.1 billion, up from US$191.7 billion in 2021. The quarterly growth rate slowed down over 10 percentage points from Q1 2022 (34% in Q1 2022 against 23% in Q4 2022). However, In 2023, global cloud infrastructure services are expected to increase spending by 23% for the whole year, compared with 29% in 2022, as per Canalys.
TIBCO's leveraged buyout of Citrix Systems for $13.8 billion in January boosted M&A activity to $104.7 billion this year. Other significant deals included Broadcom's $61.0 billion purchase of VMware in May.
Drivers for Cloud M&A
Cloud migration has forced large tech companies to accelerate new product deployments at a time when many younger, smaller enterprise IT companies are winning through innovation and speed of execution. Cloud technologies, legacy system updates, and new IT systems are growing in complexity and cost. Organizations need help managing infrastructure, scale, and security in complex cloud environments. For better control of cost, security, and infrastructure issues that CIOs are grappling with, large organizations prefer acquiring expert ITSM firms. 40% of firms will adopt a cloud-native-first strategy in 2023 to improve agility, efficiency, and cost, according to Forrester's 2022 Infrastructure Cloud Survey. Thus they are seeking specialized Cloud and managed service providers to plug technology gaps, increase market share, pursue roll-up strategies, and buy talent which led to the significant spurt in 2022 acquisitions.

Demand Drivers of Cloud Expertise 
Highlighted Transactions of 2022 and 2023
ThoughtWorks acquires Itoc
Chicago-based ThoughtWorks, with 12,000+ employees and AWS Premier Tier Services Partner status in 2022, specializes in Agile development (Scrum, XP, Lean), retail customer experience consulting, management consulting, data science and analytics, product innovation, open source communities, continuous delivery, user experience design, Agile development tools, and mobile strategy.
Queensland, Australia-based Itoc, founded in 2012, specializes in cloud computing, DevOps, AWS consulting, cloud architecture, managed AWS, proof of concepts, cloud cost optimization, training & community, cloud engineering, open source, managed services, cloud applications, eCommerce, cloud enablement, business transformation, SaaS, AWS, and IntelligentOps. 
The Itoc acquisition enhances Thoughtworks' enterprise modernization, platforms, and cloud service line in Australia. Combining Itoc's and Thoughtworks' progressive work cultures, values, and pioneering spirit will accelerate their clients' innovation and business creatively and optimally using their IT infrastructure on a flexible AWS cloud platform.
Centrilogic acquires WatServ
Mississauga-based Centrilogic, with 200+ employees, specializes in Agile and DevOps, application management, managed cloud, public, private, multi-cloud, hybrid cloud, cloud security, Microsoft Azure, AWS, OCI, co-location, data centers, disaster recovery, private networking, SD-WAN, cloud connectivity, databases, managed security, modern applications, digital transformation, IT transformation, and digital touchpoints.
Toronto-based WatServe has 70+ employees and specializes in IT consulting, infrastructure modernization, cloud-managed services, cloud assessment, cloud migration, hybrid, public, multi-cloud, cybersecurity, security operations center-as-a-service (SOCaaS), disaster recovery, Microsoft Azure, Azure Virtual Desktop, modern workplace, M365, desktop-as-a-service, network management, SQL Server migration to Azure, managed Microsoft Dynamics (AX, GP, NAV, 365BC), Google Cloud Platform, Amazon AWS, and WatServe has multiple Azure Advanced Specializations and Solution Partner Designations.
Leveraging WatServ's Cloud Expertise, Centrilogic can accelerate its growth strategy and strengthen its strategic advisory, cloud, cybersecurity, and application management services, expanding its presence in Canada and the US. They will leverage WatServe to architect and deliver a proper end-to-end solution from strategic advisory and consulting to deployment and ongoing optimization.
WatServ shares a similar culture and vision. Bringing in Centrilogic's expertise in DevOps, cloud-native application development and management, and data and analytics will benefit their clients, helping them achieve a competitive advantage and innovation and quantifiable business success.
Google Cloud Partners 66degrees merges with Pandera Systems.
66degrees, a Google Cloud Premier Partner, announced its merger with Pandera Systems, with additional investment from Sunstone Partners, a growth equity-focused Private Equity firm. Sunstone Partners invested more in 66degrees and Pandera as two unique companies joined forces to create the second-largest pure-play Google Cloud services leader in North America by employee count and professional services revenue. Chicago-based 66degrees, with 350+ employees, specializes in Google Cloud, cloud adoption, security, cost optimization, cloud-native application development, data modernization, app modernization, and cloud engineering.
Orlando-based Pandera Systems specializes in Enterprise Decision Automation, systems integration, information management, product innovation, business intelligence, analytical applications, predictive analytics, business process transformation, alliance and managed services, data science, cloud services, Google Cloud, and business analytics.
The combined company, with 500 employees and over 375 GCP and GWS certifications, will offer a more expansive portfolio of Google Cloud data and analytics modernization, cloud infrastructure modernization, DevOps transformations, cloud-native application development, and Google Workspace solutions. The merger unites two of the world's most advanced Google Cloud services firms with significant complementarity and synergies, allowing them to offer customers world-class cloud migration, infrastructure, security, application modernization, and enterprise productivity solutions.
Looking forward
In many ways, cloud technology adoption continued expansion through 2022. Many organisations planned and invested in building differentiated cloud capabilities and their future growth strategy more than they had historically, driven by the unpredictable macroeconomic environment. Looking into 2023 and beyond, much of this preparation should pay off for Cloud companies that made proactive investments to secure future growth and are well-positioned to unlock significant value. For instance, Gartner expects global IT spending to rise 5.1% to $4.6 trillion in 2023, driven by an 11.3% increase in cloud application investments to $879.62 billion.
At SA, we believe the Cloud experts and MSP markets remain highly fragmented, which should create significant opportunities for private equity and strategic investors to play a role in bringing 'founder-friendly' growth capital to specialized Cloud companies and create win-win opportunities for long-term growth or M&A. 
As we take a closer look at the cloud MSP segment, more companies are preparing themselves to implement better internal solutions to improve efficiency and scale, which includes time management, billing, and self-service apps to help customers resolve issues with identified Chatbots, Push Notifications, among others. As cloud adoption rises, MSPs will leverage remote teams and automation instead of going on-site, allowing MSPs to expand from regional to national and, for larger MSPs, global markets. SA believes through 2023 and beyond, we will see a significant expansion of flexible debt or equity-based investment opportunities for Cloud MSPs as they look to accelerate revenue growth and drive greater levels of innovation in their capabilities and offerings.