Over the last decade, advances in the information technology world have grown exponentially, especially in the world of Artificial Intelligence, which has transformed from being a buzzword to a must-have business capability. To obtain real-time analytics, automate decision recommendations, and new opportunity intelligence, businesses ranging from hospitality to healthcare to financial services are stepping up investments in AI. While the earlier use cases for AI were often driven by cost and efficiency improvement, very similar to where RPA has its play, we see a shift in the industry where more companies are now using AI to increase revenues. 
Despite global uncertainty caused by the Covid-19 pandemic, the sector continued to break funding records in 2021, with AI companies raising $67 billion in total deals, according to CB Insights. As we see beyond 2022, it is further expected to grow rapidly in the coming years, reaching around $126 billion by 2025, according to Statista, meaning that organizations in certain AI-powered sectors, that don't embrace the trend could find themselves lagging behind their competition. 
Based on research SA has conducted in the past 12 months, we found that 80% of Technology Entrepreneurs and Digital Executives view AI and machine learning as the top area. As we look beyond 2022, it is further expected to grow rapidly in the coming years. However, more than 2/3rd(66%) of this group of executives also said they did not have a process in place to identify and prioritize the right investment opportunities.  While there is clearly no one-size-fits-all approach to prioritizing AI investment areas, our research indicates, the following are the top 6 sub-segments, which are increasingly attracting investment from executives  who are looking to invest in AI-driven business transformation: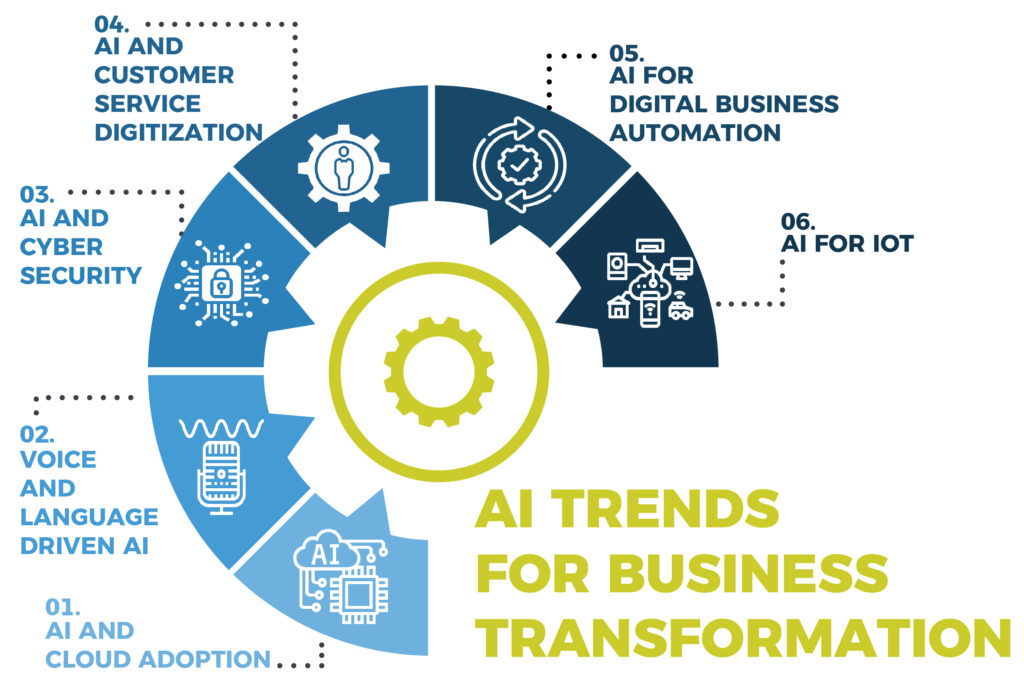 Artificial intelligence and cloud computing have been married to create products that improve the lives of millions. Digital assistants like Siri, Google Home, and Amazon's Alexa blend AI, speech recognition, and cloud computing into our lives every day. Artificial intelligence capabilities are now layering with cloud computing and helping companies manage their data, look for patterns and insights in information, deliver customer experiences, and optimize workflows. AI and cloud computing are transforming business at every level. Last year, we saw cloud services vendor VMware acquire Nyansa, which deploys AIOps, to enhance its AI and analytics capabilities.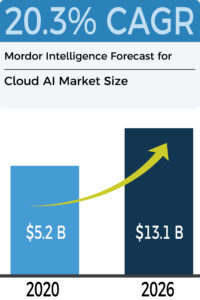 Today, developers can train neural network models, create human-like experiences using voice technology, chatbots, and increasingly using AI-enabled voice. Natural Language Processing (NLP) and Natural Language Generation (NLG) make it possible for humans to talk to machines, enabling computers to understand, interpret, and manipulate human language. The voice AI technology ecosystem is growing and now encompasses various applications that are powering business transformation such as voice analytics, speech recognition, artificial voice synthesis, voice transcription, voice recognition, among others.  Recently, Microsoft acquired AI speech recognition firm Nuance in a $19.7 billion deal, which we believe is a move geared to directly address the massive AI-driven voice and natural language market opportunity. We think this should make it a very interesting segment to watch in time to come as while Google Siri and Amazon Alexa are leading with product ecosystems, Microsoft is taking a different approach and will now be able to leverage the base technology for voice and speech recognition acquired through Nuance to build a more software-centric approach for this market.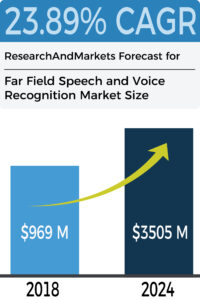 AI has become a critical technology in information security, as it is able to bring large-scale automation and quickly access millions of events and identify many different types of threats – ranging from malware to identifying risky behavior that might lead to a phishing attack or downloading of malicious content. AI learns over time, drawing from the past to identify new types of attacks now. Combining the strength of AI with cybersecurity, most enterprises have continued to expand the organisation with security professionals and additional resources to defend vulnerable networks and data from cyber attackers, which should be increasingly complemented by investments in AI and large-scale automation to replace human workflow. Earlier this year, Cybersecurity analytics provider SentinelOne bought the log analytics and observability software specialist Scalyr for $155 million.  According to a survey conducted by Trend Micro, AI will replace human beings in cybersecurity by the end of 2030. 


Regardless of how good your service or product is, a business cannot thrive without managing and improving customer experience. Customers are the single most important building block of a business. However, the rise in digital technology has made customer relationships less humanized and in a way more complex, leading business leaders to find strategies to manage customer relationships to gain new and retain existing customers. To meet evolving customer expectations, brands continue to harness the power of AI to create authentic interactions and the hyper-personalized experience that customers now expect. Chatbots, voice bots, behavioral applications, biometrics, cybersecurity, speech recognition, machine translation, and automated models for scheduling and forecasting within workforce management are among the many AI-powered functionalities in the customer experience space. AI improves agent performance by providing seamless, ideal-match routing, with full historical awareness and real-time context to drive recommendations. Last year, Weyland Tech, Inc, a global provider of eCommerce, mCommerce, and fintech business enablement solutions, reached an agreement to acquire Fixel AI, a Leading innovator in AI-powered digital marketing technology.

Many companies turned to robotic process automation (RPA) as a digital transformation hack, to reorganize a new model of work amid the pandemic. RPA is faster and cheaper than a complete platform overhaul, and it reduces dependence on human workers for high-volume, routine tasks. Continuous AI and Machine Learning developments are amplifying RPA power to tackle sophisticated tasks such as pattern recognition and decision-making in cognitive automation. Global robotic process automation software revenue is projected to reach $1.89 billion in 2021, an increase of 19.5% from 2020, according to the latest forecast from Gartner. Despite economic pressures caused by the COVID-19 pandemic, the RPA market is still expected to grow at double-digit rates through 2024. Companies recognize the power of matching traditional business process automation with AI to deliver greater efficiency and accuracy of enterprise automation efforts.

Presently, smart devices such as Google Nest, Smart Plugs, Smart locks, devices only work on command, but pairing with AI technology, these devices can automatically predict human needs and start appliances and processes without human intervention. The role of AI in IoT is to automatically identify patterns and detect anomalies in the data that smart sensors and devices generate such as sound, humidity.  Earlier this year, Microsoft acquired the Marsden Group, a technology consulting firm and developer focused on cloud, Industrial Internet of Things, and AI for industrial environments.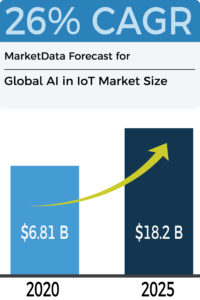 More than a year into the pandemic, governments and organizations are still responding to and recovering from it. While there has not been an antidote found to end the pandemic and solve all its consequences, AI is seen as a key tool in helping businesses and organizations respond to the need to digitize business operations, and processes to make an operate-from-anywhere remotely work model feasible. To meet the shift in business demand due to the new normal, enterprises are investing increasingly in specialized AI companies, which can bring in complementary solutions to address growth opportunities and broaden their Digital Transformation journeys.