Enterprise giants across all verticals are increasingly facing disruptive forces from digital-ready firms who better meet customer needs by delivering smart digital products and services. Moreover, the pandemic-driven remote working environment has accelerated the adoption of digitalization and further investments in the space. Leadership teams have begun to realize the importance of speeding up their organizations' digital transformation and introducing digital product strategy to the core of their industry-specific business models. In their journeys to digital transformation, most digital laggard organizations are successfully launching digital products through digital product engineering and are continuously gaining a sumptuous market share through partnering with or investing in a range of digital product and services agencies that specialise in the end-to-end strategy of a product or service, including design, development, and go-to-market mechanism. These specialised firms own capabilities in advanced digital technologies such as Data Analytics, AI/ML, IoT, AR/VR, etc to develop disruptive and meaningful products and services with simplified experiences on cloud-enabled intelligent applications, as well as can transform product development infrastructure into more digitally advanced and data-driven application development platforms. 
SA's focus on digital product engineering finds that large technology enterprises will continue to invest in specialised firms to accelerate the modernization of their digital infrastructure for product launch and development process and propel it across their capabilities for developing market-relevant, smart, and connected products and respective support services. An increasing number of technology firms are now converging their technology advancements, innovating new business models, and entering into non-core product territory. 
The Digital Product Engineering segment has been witnessing a splurge of mergers and acquisitions, including the recent acquisition of Digital Engineering Services Company GlobalLogic by Hitachi and Accenture's investment in Swedish firm Cygni, specializing in the cloud, mobile, and full-stack software development.
.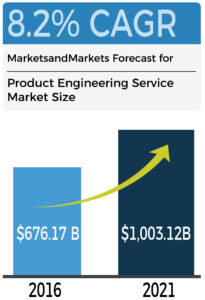 However, with the accelerated disruption leading to significantly shorter product innovation cycles, it is difficult for companies to differentiate and compete simply based on off-the-shelf software. It is important to strike a balance between drivers for cost, time-to-market and core differentiation for any product company, which leads to demand for custom software solutions that need to adapt and integrate well into the customer's technology environment to deliver value.  With evolving market needs and trends, custom software solutions allow businesses to swiftly integrate several different functionalities aligned to the market requirements. Hence custom software lets you maintain the competitive edge and long term effectiveness. The key trends leading to an acceleration in Custom Software Development adoption include Artificial Intelligence, Cybersecurity, Data Analytics and Machine Learning.
With the ever rising demand for custom software development, companies have been realising the need for it and pushing more investment in the segment, including Cognizant's recent investment in custom software developer Magenic Technologies to enhance its global engineering talent network and expertise;  and Accenture's acquisition of Swedish software development house Cygni, expanding its Cloud First and Software Engineering Capabilities. These companies received investments for their exceptional and complementary capabilities in custom software development, where the acquirer was looking to expand their portfolio and access to a larger customer base and sales channels for the integrated business to drive value.
How does advancement in digital product development technology affect businesses?
New differentiated engagements address changing customer behavior and preferences
Advancement in technology Innovation has led to creating valuable experiences and products that fulfill new and emerging needs, hence increasing the loyalty of current customers and gaining new customers. Industry incumbents, with their possession of a mine of data and resources, can combine technical capabilities like Data Analytics & AI, to create relevant digital products. A range of new and differentiated products enhance engagements with customers which proportionately increases customer lifetime value.
Competitive new products introduce new revenue streams and boost profitability
Using AI & Data Analytics, firms are able to procure insights on emerging opportunities for developing entirely new products that give them a competitive edge in the continuously evolving market. With advanced digital product development platforms, new digital products are marketed at lightspeed and subsequently create new revenue channels for organizations.
Market leaders have reinstated the necessity of advancement in digital product development for business continuity with their investment in digital capabilities. Companies that are looking into enhancing their digital product development strategy should keep the below trends that are expected to dominate 2021, in mind.


Regardless of how good a service or product is, a business cannot thrive without customer satisfaction. Customers are the single most important building block of a business. However, the rise in digital technology has made customer relationships more complex, leading business leaders to find strategies to manage their products and services that ease the user experience, especially during the pandemic. The goal for companies is to enable users to get their work done while using a product or service, by keeping them engaged, and being more user-centric across platforms – easy, efficient, consistent, intuitive, and pleasant.  With user experience being at the core of the product, companies have realized the need to invest in their user experience and turn, increase their bottom line margins. For example, Infosys recently acquired Product Design and Development Firm Kaleidoscope Innovation to enhance its digital offerings.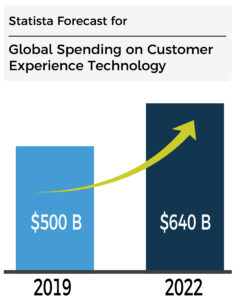 Low-code/No-code platforms allow professionals to handle smaller tasks and projects themselves without needing to bother a busy engineering team.  These platforms are useful for smaller businesses that don't have the funds for a full engineering team. Anyone in an IT department or with some basic familiarity with the back end of software can learn to use these platforms, as opposed to traditional computer programming, which not only requires much more technical expertise and training but makes it difficult for collaboration from other stakeholders who do not know the specific programming language being used. Therefore there has been a surge in investment in low-code/no-code platforms by business, including the latest investment of $68 million by Volition Capital in Creatio.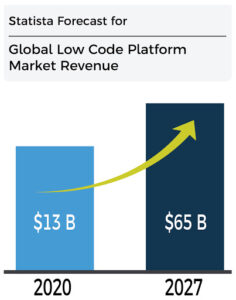 The adoption of Cloud technologies has seen stupendous growth since 2019 and only accelerated through the present unprecedented economic scenario. Businesses that have not kept pace with investing in cloud adoption strategies are now struggling to maintain business continuity amidst the global disruption caused by the pandemic, instead of looking at ways to capitalize on growth during this period. To implement and apply advanced technologies like Big Data, Artificial Intelligence (AI), 5G, Internet of Things (IoT), Cloud Technologies is the foundation that provides a common platform and simplified service delivery and support. The pandemic-driven remote working environment has accelerated demand for cloud modernization and IT automation, leading companies to further investments in the space. For example, last year HPE Acquired Cloud-Native Security Startup Scytale to expand its product portfolio. 
The extensive proliferation of digital applications worldwide has led to faster technological advancement to predict market trends and create digital assets at unprecedented speed. Thus, at SA, we are witnessing a change in the approach to digital product engineering across enterprises of different verticals and various sizes. To plan and execute digital growth across their product development strategy and product portfolio by investing in digital product engineering services would emerge from the crisis stronger.