When the DevOps movement started to coalesce around a decade ago, most software developers and IT operations experts could not have imagined the future they envisioned is already here. Bringing together Development and Operations teams and processes, in the form of DevOps, has given birth to the next evolution of collaboration tools and practices to release better software, faster. Organizations have now been able to push behind the 'waterfall model' of working by embracing DevOps and making their systems more agile.  According to a 2021 Gitlab survey of 4300 developers and managers, more than 60% of developers are now releasing code twice as fast as before, thanks to DevOps. 
The rising success resulting from the deployment of DevOps has resulted in high adoption of the technology by companies that are eager to take advantage of faster application delivery, enhanced innovation, more stable operating environments, and performance-driven cross-functional teams. "By 2023, 40% of organizations will have switched from multiple point solutions to DevOps value stream delivery platforms to streamline application delivery, versus less than 10% in 2020," according to Gartner's predictions. This kind of demand for DevOps has led to a very favorable market for Initial Public offerings IPOs and M&A transactions in this sector, which we expect should extend well into this year.

1) Copado's acquisition of New Context, a new provider of multi-cloud DevOps security to large enterprises, infrastructure, and government cloud customers.
2) Appfire acquisition of Atlassian Platinum Marketplace Partner, Artemis Software to deliver on its cloud strategy and produce several new product offerings next year.
3) DevOps Platform centric Tech Unicorn JFrog shares jumped 62% in their Nasdaq debut after the company raised $509 million in its upsized initial public offering.

Due to the multi-fold spike in remote work as a result of the pandemic,, the consumption of digital content and bandwidth is skyrocketing, which demands a new level of automation for self-scaling and self-healing systems to meet the exponential demand spikes. With the effective adoption of DevOps and smart automation, organizations have gained a competitive advantage by increasing the rate of software deliveries and improving the company's time to market, leading to more companies stepping up investments in the technology.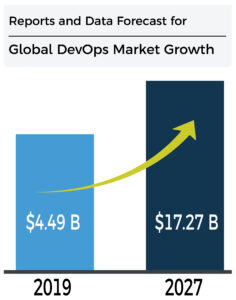 Now that DevOps has entered its second decade, the focus for most companies has expanded beyond product delivery. The following are the top trends that are expected to make DevOps pivotal for companies focusing on improving their rate of innovation and organization speed in 2021:


AIOps or Artificial Intelligence for IT Operations helps by automating the path from development to production, predicting the effect of deployment on production, and automatically responding to changes in how the production environment is performing. Given the limitations of the existing IT solutions to manage data, enterprises are leveraging AIOps to undertake a host of activities. Further, AIOps can monitor the behavior of IT infrastructure and by aligning data resources it can optimize work processes and drive profitability. It's essential that the whole process of implementing an AIOps platform must be aligned with the reorganization of a company's IT operations and should follow an operational model specifically fitted for the business.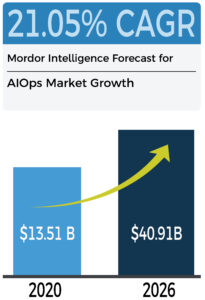 One of the key aspects of the DevOps lifecycle is getting quick feedback, especially during deployments. APM plays a crucial role in providing rapid feedback to developers during deployments. This provides crucial help with monitoring deployments while providing valuable insights into performance. Looking ahead, we expect the emergence of APM applications will solidify during 2021. APM vendors are further expected to expand their offerings to include integrated infrastructure monitoring and analysis this year. According to Mordor Intelligence, the APM market is expected to register a CAGR of 12% over the forecast period 2021 - 2026.

The remote-work setup with people working from all across the globe has opened the door for security vulnerabilities. With such an explosion of security and cyberattack risks, the need for injecting security into every layer of business operation is more important than ever. Moreover, with organizations embracing Kubernetes, serverless, and other cloud-based technologies, cloud-native security has become more critical.  Businesses are moving faster to the cloud to deliver new features quickly and at high frequency, and security teams need to embrace these new tools and processes to ensure that these deployments are safe and fast. As a result, enterprises are increasingly embedding a DevSecOps process for bringing security into DevOps.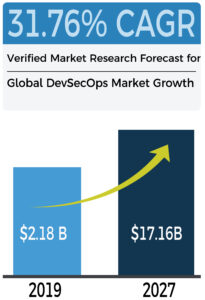 While DevOps can help software organizations innovate faster and be more responsive to business needs, many organizations face trouble implementing it. According to Gartner, "DevOps is quickly becoming mainstream, but questions remain on how this relatively new approach to culture, automation, and platform design can deliver what it promises." "Plenty of I&O leaders still face roadblocks implementing and scaling a DevOps practice". 
As we see more focus in 2021 on AIOps, Application Performance Monitoring, and DevSecOps, managing these diverse technology capabilities along with people and process integration issues will be an important area of focus for business leaders who are looking to leverage these technology intersections to expand value creation. In addition, it would be important for their organizations to meet the shift in business demand due to the new normal, which creates significant opportunities to accelerate the build-out of these specialized DevOps and DevSecOps capabilities through precise investments or strategic M&A which has been a mantra for some of the leading companies when it comes not only achieving faster growth, but building large global communities around their core and achieve better scalability, reliability, security, and happier customer developers.