With the pandemic leading to a rise in digital transformation, the fact that cloud adoption is soaring is not a surprise. As more businesses use cloud computing for applications, storage and more, channel partners are finding new opportunities to help their customers run and manage cloud services. What is interesting, however, is how it has in turn led to a rise in Kubernetes-based services, with more organizations adopting containerized softwares, that produce runtime environments with highly manageable container-based applications at scale. As a result of the rise in container technology, infrastructure economics are expected to undergo the most significant shift since virtual servers. Backed by Kubernetes, companies can significantly increase their on-premise or cloud-hosted infrastructure utilization as all the computational resources are dynamically and reasonably shared across multiple app-driven processes. On average, customers save 50 percent on infrastructure costs by moving cloud-native applications to a private, hybrid or public cloud instead of their own data centres.

Along with the enormous amounts of benefits of Kubernetes, there also come critical technical challenges associated with the adoption of the technology. The complexity of managing and orchestrating large-scale container deployments across multiple cloud environments is beyond the capabilities of most IT teams at mid to large-scale enterprises. To overcome this challenge, such companies have begun partnering with Kubernetes specialists. The following are some recent Strategic Partnerships specialized Kubernetes firms have entered into with established global enterprises across verticals, highlighting how Kubernetes enables smooth automated app deployment, operability and scalability.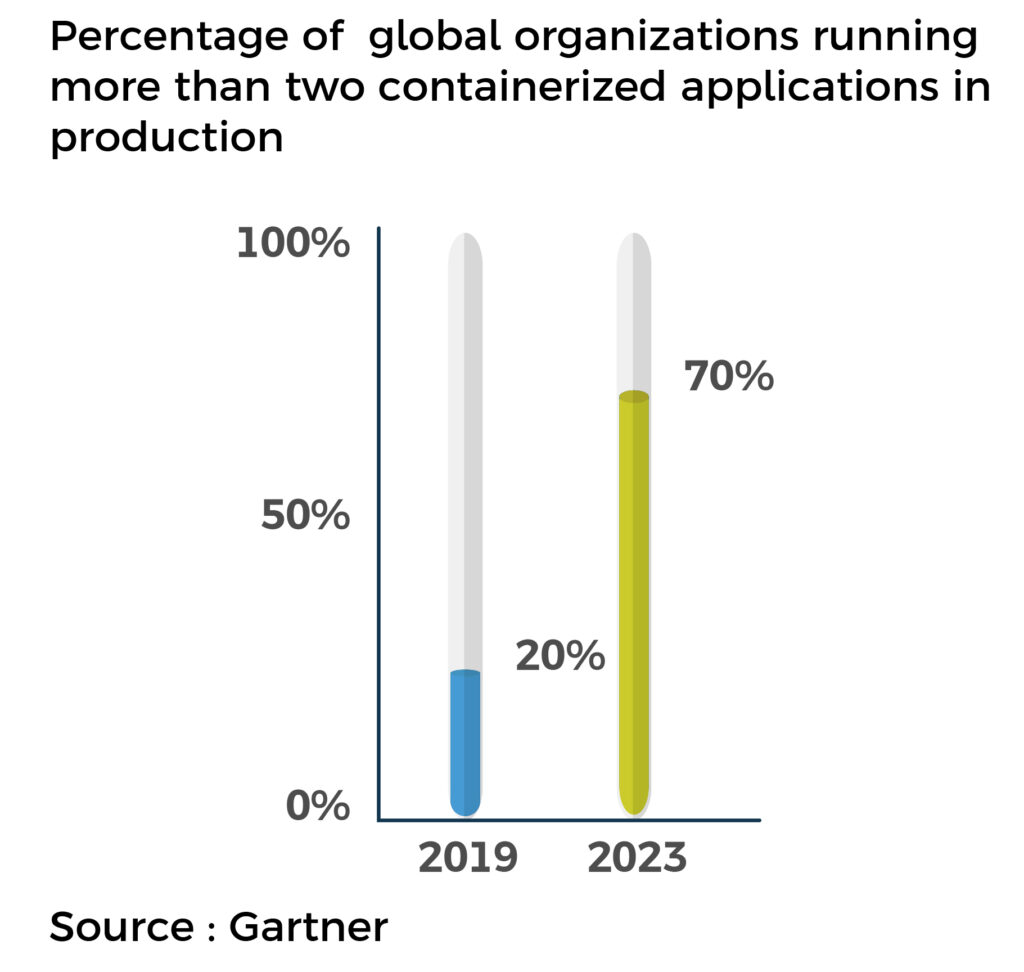 Cisco Buys Banzai Cloud, Portshift
Cisco snapped up two Kubernetes-focused companies- Hungary-based Banzai Cloud for and Tel Aviv-based start-up Portshift- for reportedly $100 million each, within a year. Through the two Kubernetes-focused acquisitions, Cisco looked to boost a rapidly expanding portfolio of cloud-native technology developing under its roof. Staff from both startups were expected to bolster a team of Kubernetes specialists developing new cloud-native networking and security technologies under Cisco's roof.
Portshift, which developed a Kubernetes-based platform for securing containers and serverless apps, was expected to help Cisco customers enable DevSecOps and build security into cloud-native applications early on in the lifecycle of the applications. Banzai Cloud, a Kubernetes-based platform that helps enterprises develop, deploy, and scale cloud-native applications, built and deployed a number of software tools that address real-world problems.
As a result of these two cross-border acquisitions, both companies reaffirmed their commitment to hybrid multi-cloud application-first infrastructure as the de facto mode of operating IT, demonstrating the globalisation of the cloud.
Hitachi Vantara acquires Containership
Hitachi Vantara acquired Containership, a Kubernetes startup. As a result of Containership's deployment and management capabilities, the company aimed for its customers to quickly be able to deploy and manage Kubernetes clusters as well as containerized applications in public cloud. Kubernetes customers working with persistent storage, centralised authentication and access control, audit logging as well as continuous deployment and workload portability were expected to benefit from the software.
In order to help enterprises build and manage containerized applications in Kubernetes production environments, Mirantis acquired the Kubernetes IDE project Lens. To help enterprise developers manage Kubernetes clusters in production, Lens was expected to add various management tools alongside the Mirantis Docker Enterprise offering, making it easier for enterprise developers to develop for Amazon EKS, Google GKE, Microsoft AKS, and private clouds. Mirantis developers could support different aspects of Kubernetes without ever losing focus thanks to Lens' unified, easy-to-use interface. With features such as the context-sensitive terminal, and multi-cluster management, Mirantis' massive enterprise portfolio was regarded to be well-suited to this product.
Venafi, a vendor of certificate and key management for machine-to-machine connections, acquired Jetstack, a U.K. startup that helps enterprises migrate and work within Kubernetes and cloud-based ecosystems, which had also been behind the development of cert-manager, a popular, open-source native Kubernetes certificate management controller. Venafi had been offering Kubernetes integrations prior to this — and Venafi and Jetstack have worked together for two years. But Jetstack's acquisition will give it direct, in-house expertise to speed up development and deployment of better tools to meet the challenges of a rapidly expanding landscape of machines and applications, all of which require unique certificates to connect securely.The crux of the issue is the sheer volume of machines that are being used in computing environments, thanks to the growth of Kubernetes clusters, cloud instances, microservices and more, with each machine requiring a unique identity to connect, communicate and execute securely, Venafi notes, with disruptions or misfires in the system leaving holes for security breaches.
The above acquisitions demonstrate how containerized applications built on the open-source Kubernetes platform have become prevalent. The drivers for such a high uptake are the flexible features and tooling capabilities of Kubernetes, which offer large enterprises the ability to work with multiple partners. Through such transactions, strategic investors are looking to address challenges centred around storage, security and development. Such symbiotic investments also expedite product innovation, thus reducing product development costs and creating a continuous market for affordable and customizable Kubernetes capabilities. We, at SA, continue to see significant investor interest in Kubernetes providers and specialists and expect the range of opportunities within the segment to grow significantly.
To share feedback on this blog or explore transaction opportunities for your firm with us, please write to us at [email protected]