As demand for digital transformation grows, so do expectations for effectively leveraging data to create highly personalized experiences for customers and employees and to unlock productivity across the enterprise. With the pandemic labeling ServiceNow, a 'mission critical' need for organizations to survive and thrive, SA has garnered some insight from our recent conversations with executives and investors on how investing in ServiceNow capabilities has helped them shield their organizations from pandemic woes to seamlessly transform key business processes and manage effective ways of working in a completely remote environment., As the adoption of ServiceNow solutions across industry verticals continues to grow, it is evident that enterprises across the globe are in need of specialised ServiceNow partners to accelerate and manage operational efficiency across organizations ranging from IT and DevOps to Human Resources, and Customer service. According to a recent Morningstar report, the software company controls about 40% of the $3.5 billion ITSM market, which is expected to grow 20% annually over the next several years. ServiceNow expects its partners to be a significant source of that growth, which coupled with the need for faster access to ServiceNow capabilities has fueled M&A interest in this sector recently.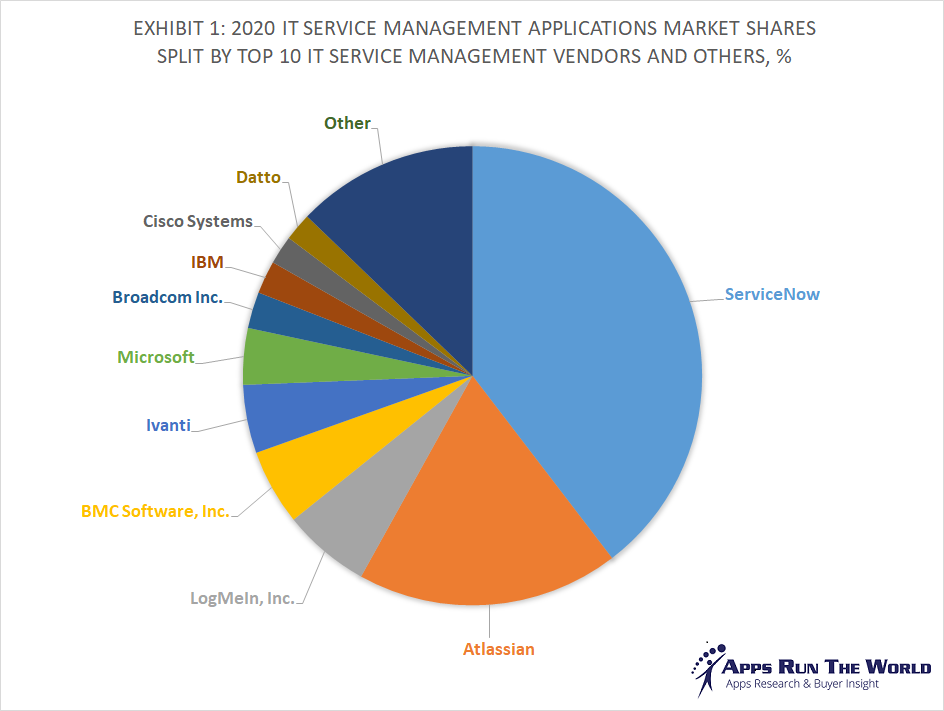 As the market leader in ITSM, ServiceNow continues to expand its lead with a 31% rise in revenue to $1,512 million in its latest quarterly earnings report versus $614.02 million revenue posted by its biggest competitor Atlassian. Consequently, ServiceNow has quickly built a strong partner ecosystem around the product with specialized capabilities, including professional services and integrations, the demand for which has been rising exponentially. According to ChannelE2E, 2021 saw 17 ServiceNow partner acquisitions versus 12 acquisitions in 2020, indicating an upward trend in investors' interest in these partners. For a recent set of ServiceNow partner transactions in 2021, we saw an uptick in the pace of acquisitions in a relatively small sector drive an uptick in valuations during this period, where the average transaction multiple was 2.5 times LTM revenue (1.45x- 3.10x).  For 2022, we expect multiples to trend moderately higher based on strong and sustained demand for ServiceNow and growing Strategic and PE investor interest in looking to expand investment within this segment. The following is a snapshot of a few recent Strategic Partnerships specialized ServiceNow Partners have entered into with established global technology and digital services players across verticals:
ICF's acquisition of Creative Systems and Consulting
A ServiceNow, Salesforce and Microsoft partner Creative's acquisition by ICF expands ICF's qualifications in the federal IT modernization/digital transformation arena. The acquisition is expected to provide significant opportunities for revenue synergies over time as ICF now offers leading practices supporting the most highly adopted low-code/no-code platforms in the federal government.
About ICF: ICF is a global consulting services company with business analysts and policy specialists that work together with digital strategists, data scientists and creatives. ICF combines unmatched industry expertise with cutting-edge engagement capabilities to help organizations solve their most complex challenges.

About Creative Systems and Consulting: Creative is a Salesforce ServiceNow and Microsoft partner and a premier provider of IT modernization and digital transformation solutions to U.S. federal agencies.
Deloitte's acquisition of Odysseus

Deloitte's acquisition of Odysseus deepens its capabilities with its extensive experience in IT Business Management, Agile, DevOps and Project Portfolio Management. Together with Deloitte's existing offerings on ServiceNow's IT, Risk, Employee and Customer workflow solutions, it is now better than ever positioned to deliver the full breadth of ServiceNow services to its clients. The acquisition lays the foundation for the accelerated growth potential in the ServiceNow consulting market, enabling Deloitte to provide best-in-class services to its clients. 
About Deloitte: Deloitte is a leading global provider of audit and assurance, consulting, financial advisory, risk advisory, tax, and related services.

About Odysseus: Odysseus is a ServiceNow consulting partner that offers portfolio management solutions to end customers. Odysseus's expertise spans IT Business Management, Agile, DevOps and Project Portfolio Management.
Synoptek's acquisition of Rapid Technologies

Synoptek's acquisition of Rapid Technologies strengthens Synoptek's ability to not only envision and implement ServiceNow solutions for its customers but also to provide ongoing application support management offerings that will enable clients to get the most out of their investments. Synoptek's long and successful history of client partnerships within the ServiceNow ecosystem, paired with Rapid Technologies' strong reputation for delivering ESM solutions, reinforces Synoptek's position as a leader in digital consulting, implementation and IT management.  The acquisition provides extended service and solution offerings for Rapid Technologies' clients, as well as a major growth opportunity for both businesses.
About Synoptek: Synoptek is a business and technology consulting firm that helps companies envision, transform and evolve. As a global systems integrator and managed technology services provider, Synoptek partners with organizations worldwide to help them navigate the ever-changing technology landscape and build solid foundations for their business.

About Rapid Technologies: Rapid Technologies, an Elite ServiceNow partner, provides consulting, implementation and support services with a focus on giving back to the community through its ServiceNow for Good program.
RSM US LLP's acquisition of Rego Consulting

RSM US LLP's acquisition of Rego Consulting helps it cater to the high client demand for ServiceNow solutions that can help its clients get ahead in an increasingly complex and competitive business environment. The acquisition expands the delivery of high-demand digital transformation solutions to the firm's middle-market clients.

About RSM US LLP: RSM's delivers audit, tax and consulting services focused on middle-market businesses.

About Rego Consulting: Rego Consulting is a leading ServiceNow Elite-level services and consulting provider for IT Business Management (ITBM), and offers end-to-end services for IT Service Management (ITSM), IT Operations Management (ITOM), Configuration Management Database (CMDB), Software Asset Management (SAM), and Customer Service Management (CSM).
Nexon Asia Pacific's acquisition of Computer Systems Australia 
Nexon Asia Pacific's acquisition of Computer Systems Australia strengthens its proposition to clients across cloud, network and cyber. The company is also able to leverage CSA's strong C-suite engagement and expertise in digital services, underpinned by their relationship with ServiceNow, to create new digital experiences for its clients. For CSA, the acquisition not only increases scale but also enables its clients to access new technologies and services.
About Nexon Asia Pacific: Nexon Asia Pacific helps its clients run their business better, acting as an integral part of their team in all I.T. matters. From network, cloud services, unified communications, business solutions, digital workspace, right through to desktop and day-to-day support, the company takes the necessary steps to transform an organisation, enabling sustainable growth and pathways for innovation.

About Computer Systems Australia: Computer Systems Australia (CSA) is a ServiceNow partner with deep IT service management (ITSM) expertise. CSA has built out core capabilities and teams that are primarily focused on delivering ServiceNow, cloud, digital, network and cybersecurity services.
Indeed, ServiceNow has emerged as a preferred IT service management (ITSM) platform for enterprise IT departments. Major IT players and Strategic Investors are propelling to build or expand their practices around ITSM capabilities, within which ServiceNow continues to be expanding the lead and growing their ecosystem incredibly well. 
As a result of ServiceNow's dominant market position, its platform has helped build a strong partner ecosystem including professional services and integrations. As most mid to large IT Services and Digital Transformation players expand their ITSM portfolio, they are looking at complementary ServiceNow partners with specialised capabilities to enhance their ITSM and broader Managed Services portfolio.  Companies are investing in ServiceNow partners based on new features and capabilities that are expected to replace their existing legacy systems. In turn, ServiceNow partners get access to more sophisticated resources, geographies, and larger global clients to take growth to the next level through such strategic investments that spur synergistic growth.  Based on such demand we are experiencing from both Strategic and PE investors and the current pace of deal flow we see within the ServiceNow ecosystem, we expect a significant acceleration in new M&A opportunities in this sector to continue through 2022.

To share feedback on this blog or explore transaction opportunities for your firm with us, please write to us at [email protected].