Any M&A process typically involves multiple in-person management presentations, site visits and meetings with key stakeholders across multiple organisations involved at different stages. However, the COVID-19 imposed travel restrictions, 'stay-at-home' orders and shutdowns made in-person interactions difficult, if not impossible, leading to the virtualization of the entire M&A process. Now with the emergence of the new Covid variant- Omicron at the start of 2022, it looks like dealmakers need to keep their virtual M&A playbook handy for longer. Just as due diligence has become more virtual over the years with cloud-based data rooms, most technology-led investment banks have quickly adapted to the new environment, wherein, critical aspects of the entire process, including running a virtual M&A integration process have now become possible. If executed well, it can become a competitive advantage for M&A transactions in the technology space and drive value for Entrepreneurs and Investors by saving enormous costs and time relative to a traditional M&A process. The good news is that entrepreneurs and investors benefit significantly from the efficiency bankers can bring into the M&A process.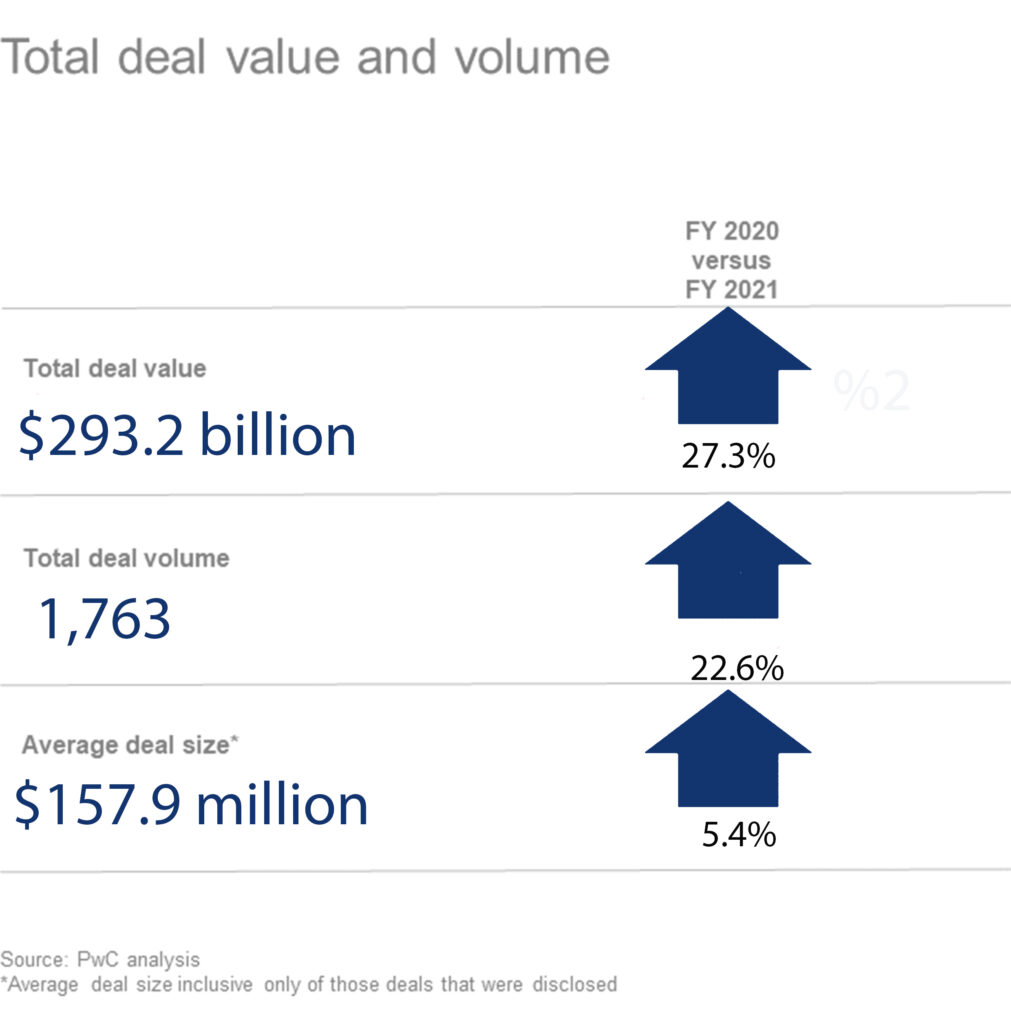 Unlike the previous few quarters, things are different this time—the impact of the pandemic is not just on the financial system generally, valuation expectations of sellers, and the appetite of buyers to get deals done in shorter time frames, but on a multitude of other factors affecting M&A deals. These include higher complexity in deal terms, future growth scenarios built into earn-out structures, increase in the proportion of stock-based purchase consideration (common in deals where the investor is a publicly listed company), which are leading to higher risk and naturally higher reward built-in for sellers. For investors, on the other hand, this has resulted in greater emphasis being placed on the due diligence process given new due diligence issues that have arisen, the manner in which due diligence is conducted remotely, the availability, pricing and other terms of deal financing, and the time it will take to obtain necessary regulatory and other third-party approvals for transactions. It is noteworthy to see how quickly the industry has adapted to the new virtual model and so far, this did not slow down the pace of the M&A transactions in 2021, with the first three quarters of the year totaling about 1,600 deals — more than in all of 2020. The deal pace remained robust in the fourth quarter of 2021, totaling 149 deals.

Companies and their investment advisors have now become increasingly adept at using remote technologies, including video conferencing, virtual data rooms and sometimes even drones, to conduct their negotiations, market their assets, prepare for a sale or acquisition and conduct due diligence. Both sell-side and buy-side dealmakers can adopt technology faster to help optimize significant parts of the M&A process, whether at the valuation or discovery stages or during an M&A Search process to identify and engage companies that best align with the client's growth strategy. 
While the pandemic saw a rise in the number of virtual mergers and acquisitions, it also demonstrated the need for trust while dealmaking. The pandemic saw many deals closing but with more flexible deal structures and virtual post-merger integration, underlining the value of trust in dealmaking.

"With a lot of deal-making activity moving digital, we have SA to thank for their specialised approach in conducting the M&A process with utmost transparency and fairness in a virtual environment. For our strategic majority acquisition by iLink Digital last year, SA ensured that every small step in the remotely carried out process was meticulously planned and executed with utmost care in spite of the ever-growing uncertainty owing to COVID. This helped us increase value and grow our business through this combined growth journey post-deal". – Shivanath Devinarayanan, CEO of Dazeworks. 
Based on our  experience and perspective driving value for clients through M&A, we broadly see the following critical competencies that can drive an effective virtual M&A process to support successful dealmaking in today's M&A environment:

Using remote meeting platforms to understand Management: The key to a successful M&A is not just the financial data. Blending two separate organizations — each with distinct cultures, values, goals and definitions of success — into one unified team is a deeply human process that requires immense collaboration and trust-building. The 'paperwork' in any M&A transaction is the easy part. The "people work," on the other hand, is the hard one — and it's often overlooked. Understanding management vision for growth plans and where there can be common goals, possibilities to expand collaboration as part of the deal evaluation process is a critical step in any M&A transaction. Now with the pandemic having changed multiple spheres of our lives, dealmakers have also resorted to remote meeting platforms such as Zoom, WebEx, and GoToMeeting to provide the best proxy for the interactions of a collocated team. Because of instant messaging tools, dealmakers are now provided with real-time ready, easy, and cost-effective capabilities that enable productive, personal interaction". With all of the principal players working remotely, the effective use of new and creative communication tools, technologies and techniques have become more critical as buyers, sellers, providers of M&A financing, and all of their respective legal and financial advisors adjust to the changing environment. We have seen great strides being made to leverage remote meeting platforms instead of in-person meetings halfway across the globe to build a better understanding of management and people aspects, which are key considerations in successful dealmaking. 

Virtual Due Diligence: Prior to the pandemic, virtual due diligence was an exception, but that has changed now. Due diligence earlier involved a lot of face-to-face interactions and travel, but after the onset of the pandemic, dealmakers have noted that the level of engagement with potentials has increased. With the reduction in travel distractions, people have become more accessible. The role of technology for due diligence extended beyond video conferencing tools with some companies also using drones or robots in place of physical visits. Goldman Sachs' global co-head of mergers and acquisitions Stephan Feldgoise said that the company has been using drone technology to give its clients a "bird's-eye view" of target companies. The DD process has undergone a change wherein now it relies less on on-site visits and physical meetings and more on Virtual Data Rooms. In an exclusive conversation with SA, EthosData CEO Francisco Lorca explained how technology and virtual data rooms have become essential parts of a dealmakers toolkit. "The current pandemic has made it essential for Technology-focused investment banks to finetune and optimize their M&A process to work effectively in a virtual environment by bringing in best-in-class Virtual Data Room platforms. The rising volume of deal closures despite the Covid-19 pandemic is a testament to the fact that dealmakers have now adapted to the new normal and are making the best use of technology to deliver the best results for their clients remotely," Lorca said.
Virtual Site Visits and Audits: A virtual audit is an assessment conducted entirely online with no face-to-face interaction with an experienced auditor. With the rising pandemic effect, remote audits and site visits are an increasingly common way to overcome barriers that prevent in-person meetings. With the same goals, these virtual meetings cover the same ground as an on-site visit.  Audit firms that engage in 100% remote audits use electronic communication to understand an organization's internal controls. The use of software-based auditing that tracks, conducts, and responds to audits while preserving data integrity, is likely to be introduced in the system. Quality of audit can be managed using predefined audit templates based on specific standards and criteria that make auditing fast and easy. Responses can be captured and mitigated in real-time too. With the introduction of virtual site visits and audits, a lot of money is saved in travel as well as provides improved information transfer efficiency and accessibility through digital files. Even after the pandemic subsides, we expect many organizations will continue to utilize virtual audits and site visits given how much this has benefitted them.

Dealmakers' willingness to embrace new technologies and tools during the pandemic will undoubtedly lead to more efficient, effective, and resilient dealmaking in 2022 and beyond.  We, at SA Global Advisors, were fortunate to adopt a fully virtual global M&A process very early, not by design, but by way of necessity during the pandemic and given the success our clients and investors have seen, we have subsequently extended this to running virtual M&A integration post-deal given inc demand we see across the ecosystem.  We bring unparalleled experience in scaling, acquiring, and successfully exiting a range of technology companies backed by some of the largest PE and Venture Capital investors. Our partner-led, team-oriented approach and a proven tech-enabled process have put us in a unique position to help clients accelerate their Digital Transformation growth through M&A.  
To share feedback on this blog or explore transaction opportunities for your firm with us, please write to us at [email protected]